Not sure where to start in terms of ordering supplies for your new puppy? Let us do the hard part for you! We've gathered a list of items from essentials to things you might not think you'll need, but will love! We've got you covered on the basics like food and a crate, fun but safe toy options, and a couple items we love for obedience training. Please note that we are not affiliated with any of the items, brands, or links provided in this post. They are suggestions that we recommend you consider, but ultimately order based on your preferences, ratings/reviews, or financial reasons. Here is Beyond the Dog's unofficial Puppy Supply List!
Necessities
Whether you haven't fully decided on a puppy yet, or are bringing a puppy home today, you'll need the essentials. Food, bowls, collar and leash, and a kennel.
Food
Walking into a pet store and having what feels like hundreds of dog food options can feel overwhelming. A good place to start is to consult with the Breeder you are buying from (if applicable) or a trusted Veterinarian. They may have suggestions based on the breed of your puppy and potential health risks and preventative measures you may want to consider. You may consult with your Veterinarian about whether you may need to avoid soy, wheat, corn, or animal by-products in your puppy's food. Leaning towards a dry food option (something easy to feed by hand) will also help with being able to use it to train your puppy after they are settled into your home! Using their food for training has many benefits, including bonding with your puppy, encouraging a positive work ethic, and avoiding expensive treats for training.
Bowls
While Beyond the Dog is a strong believer in hand-feeding your puppy, you also want to encourage your puppy to eat from a bowl as well. Below we'll provide options for standard feeding dishes, a raised feeding option, as well as a slow-feed bowl for the puppies who just can't seem to eat fast enough.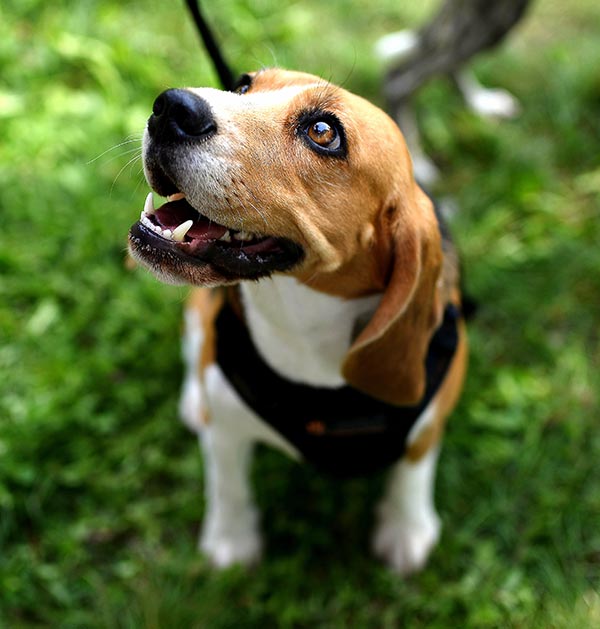 Collar and leash
In order to take your puppy out to potty or on walks, you'll need a secure collar and leash. It's important to make sure your puppy is both safe and comfortable. On that note, we recommend a standard collar, but also a martingale collar specifically for training and/or walking. A martingale collar is an ethical collar that, when fit correctly, will not allow your puppy to slip out. This will help prevent the possibility of your puppy getting away from you or running freely around your neighborhood. We recommend a 4-6 ft leash over a retractable leash. This will help keep your puppy close on walks. Inside the home, you might consider having your puppy drag their leash to help you keep an eye on them, especially if they are still potty training. If you notice they tend to chew on or destroy their leash in these cases, a chain leash or tie-out material leash might be a better alternative that is less fun for them to chew on.
Kennel
Having a crate that is both comfortable and safe for your puppy is crucial while they are being housebroken and learning to not chew on things they shouldn't. Even though you may not use the kennel forever, it will be important to encourage your puppy to be comfortable in it in case you need to use it when you leave for work, errands, or when they stay with friends or family when you're out of town. We've included different styles and values so you can choose what would suit you and your new puppy best!
Puppy Toys
We cannot recommend having appropriate toys for your puppy highly enough! It is important that the toys you provide for your puppy are safe, are not choking hazards, and that you have a good variety so that your puppy values their toys and is not encouraged to chew on household items. Beyond the Dog recommends that your puppy have 8-12 toys to choose from. These can include various Nylabones, Kongs, Femur bones, Cow bones, and Antlers. We do NOT recommend rawhides or bones with edible coating or filling. If your puppy doesn't seem to have much interest in their toys at first, give them extra attention and pets when they are interacting with them. This will help encourage them to use their toys more often. If you have any power tools at home, you can even "rough" the toys up a little, and this might trick your puppy into thinking if another puppy has chewed on the toy, then it must be a good one to play with!
Training Supplies
Before you start looking into intensive training, you should first consider beginning with the basics. Our 6 Essential Things to Jumpstart Training Your Puppy blog post is the perfect place to start! If you're looking to advance to the next level, here are some items you might consider investing in for your puppy.
We hope this compiled list of puppy supplies helps guide you in the right direction! From necessities like food, bowls, collars and a kennel, to the extra curricular items like training leads, you can find all of our suggestions all in one place with embedded links to all recommendations included. Once you have everything you need, you can find more information on how to introduce good habits and use these items effectively from our Puppy Training Blog. If you'd rather meet with a trainer and work one-on-one with our behavior consultants and your puppy directly, reach out and schedule an appointment today!