Treat your dog to these homemade liver biscuits this holiday season! Not only will your dog enjoy it, but it also provides health benefits. Liver is nutrient-dense and dogs love it (even if it can smell a little stinky to some humans!). It's packed with Vitamin A for vision and immune function, Vitamin C which boosts your dog's immune system and reduces inflammation, B12 (Riboflavin) and B9 (Folate) which aid in cell development and growth, Iron which aids in moving oxygen from the lungs throughout the body, Copper which can help in energy production and brain function, and Choline which also helps in brain function and even liver function. We got into the holiday spirit by using mini star-shaped cookie cutters, but you can use any small cookie cutter, roll them into balls and flatten them, or slice them into small squares or other logos. We recommend chicken liver because of its availability in grocery stores but beef, duck, or even deer would work too.
Liver Star Biscuits Recipe
Ingredients
⅓ lb raw beef or chicken liver, rinsed
1 cup oats
½ cup whole wheat flour (or AP flour if that's all you have)
1 egg
Supplies
Food processor
Measuring cups
Spatula
Baking sheet with parchment paper
Cookie cutter or knife
Directions
Preheat the oven to 350 degrees and line a baking sheet with parchment paper. Pulse oats in the food processor until sand consistency. Remove into a mixing bowl and add flour to combine. Pulse liver and egg in the food processor until it forms a paste. Add the paste to flour and mix into a dough. Add water a tablespoon at a time if the mixture is too dry, or flour a tablespoon at a time if too wet. Roll out the dough onto a floured surface to about ¼inch. Cut out the biscuits with your favorite cookie cutter or roll them into tablespoon-sized balls and smush them with your palm into cookies.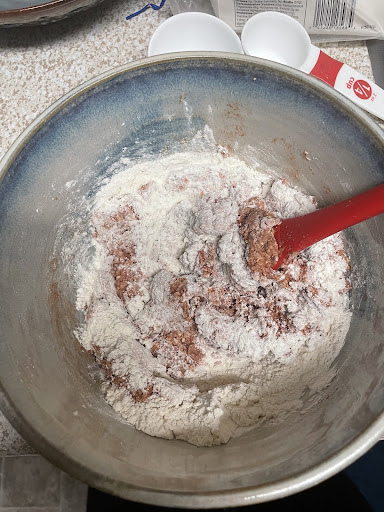 Line the biscuits on the cookie sheet about an inch apart and bake for 35 minutes until crispy (or less if you'd like soft treats). Cool completely and enjoy! These can be kept in the freezer for up to 4 months or in the fridge for up to 2 weeks.
If you try out this recipe tag us, @beyondthedogtexas on Instagram!