According to my dog, there are two seasons in Dallas – muddy and dry. Brown footprints traipsed across the floors and mud tracked along the furniture. Does that stop me from letting my dog run around outside? Of course not, she loves it! But the mud slung across the floor has to stop. Below are some of our top tips to keep the mud outside.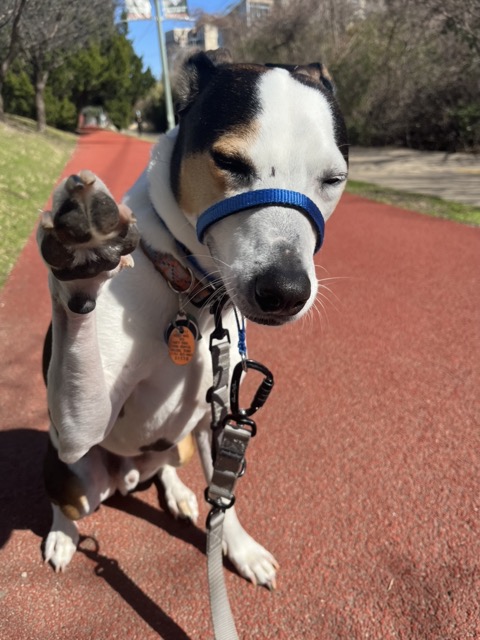 Keep paw fur and nails trimmed
The first and most important tip is to trim your dog's fur and nails. The mud has much less to stick to when their paw fur and nails are kept short. We recommend a dremel for nails, the safest way to keep them short. Also, an electric clipper like this one, made to keep paw fur short in between their toes, is an easy and painless way to keep the mud off. For dogs that don't like the sound of electric tools, nail clippers, and scissors are also a good way to go! If your dog has a tendency to squirm away from paw trimming, check out our blog on "Preparing Your Puppy for Veterinary and Grooming Visits". 
Wipes or a microfiber towel
Upgrade from a regular towel to a microfiber one, which is better at picking up dirt and is softer on your dog's paws. Alternatively, pick up a pack of paw wipes that will clean the mud away and moisturize their paws at the same time.
Doormat
The best doormat for muddy paws is a mat that is both absorbent and washable. In fact, there are many microfiber mats that double as a wipe station.
Set up a wash station
Whether it is warm water in a plastic container, pie pan, or poured shallow in a kiddie pool, create your own paw washing station. Dip your dog's paw in the water, one at a time, to loosen the mud from the fur. If you have a soft scrub brush, use it to get in between all the toes, and then wipe away the remaining dirt with a towel. You can also purchase paw washing stations, which often include soft bristles inside to dislodge stubborn bits of dirt or mud. Typically the wash stations are box-shaped, like Ski Innovations Paw Boss Wash, or they are smaller and more cylindrical, like Dexas MudBuster Portable Dog Paw Cleaner.
Try paw wax
Smearing a layer of wax on the bottom of a dog's paw will create a barrier for mud and water and act as a repellent. As a bonus, it keeps their paws moisturized and improves their traction overall. When shopping for wax, pick one with all-natural, non-toxic ingredients.
Block off muddy areas or switch to turf
If your yard allows it, the best thing you can do to prevent muddy paws is to simply avoid mud. If the mud is typically in one area of the yard, remove access by blocking it with a gate or exercise pen. Better yet, switch your yard to artificial grass. It looks nice and you'll never worry about mud again.