When thinking about dog trainers, there are a lot of different terms to think about when reading about credentials, training, and philosophy. Terms that often get thrown about are behaviorist, behavior consultant, and trainer. This blog is going to break down some of these titles and provide some background to these terms.
What is behavior analysis? 
Behavior analysis is a discipline that encompasses three different domains, behaviorism (the philosophy), experimental analysis of behavior (basic principles), and applied behavior analysis (how to use the science to solve problems; Fisher et al. 2013). The most famous behaviorist is B.F. Skinner, who not only studied behavior with rats and pigeons, but expanded our understanding of behavior as a unit of measurement. Said simply, behaviorists study anything an organism does. Behavior analysts and behaviorists are interested in measurable, observable actions and work to understand those behaviors in the context of the organism's environment and genetic history. Those interested in studying behavior tend to focus on data-driven science to solve problems. To best do so, these individuals often receive advanced training in the science of behavior to understand why a dog may engage in certain types of behavior and then work to set up the environment for different, more appropriate behaviors. Problem solving is not the only thing behavior analysts do, they also work on skill acquisition such as teaching new commands and building in distractions or other challenges to ensure the behavior is maintained for the owners even after they leave. Applied behavior analysts are interested in socially significant behavior, and with how many people have pets, it makes sense that the science of behavior can be used to help pet owners and their companions get the most out of life.
One of the biggest criticisms of behavior analysis is that practitioners and trainers don't care about the emotional wellbeing of the animals with which we work. As someone who works closely with dogs, and adores my own, this can't be further from the truth. Instead, dogs can't "tell" us how they are feeling using words, so instead we rely on the behavior they show us to solve problems. The behavior of a dog avoiding a stimulus such as a car tells us that they may be frightened without needing to use words. We also avoid using language such as "aggressive dog" or even "bad dog" (see "How Can I Help My Reactive Dog," for more details) because we adhere to the philosophy that an environment may set a dog up for failure, not that the dog is inherently bad. This perspective allows us to set up environments in which the dog can thrive.
Now that you have a little background on behaviorism and behavior analysis, the next step is finding what is going to be the best for you and your furry friend.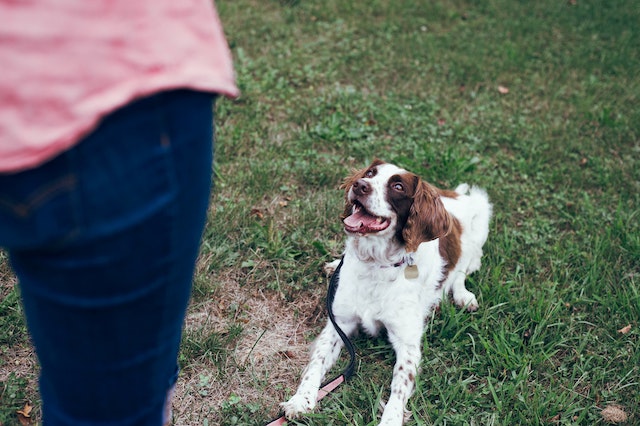 What is this alphabet soup of credentials? How do I find the best fit for my dog? 
While both dog trainers and behaviorists can be a huge help while you are training your pet, there are some differences that may be more important than others, depending on your needs. Before comparing the two, let's chat a little about what each of these titles mean.
Behaviorists and Behavior Consultants 
Someone trained as a behaviorist or behavior analyst has an understanding of functions of behavior, or the "why".  These principles of behavior are the main foundation for their understanding (Skinner, 1938). Although many can describe themselves as behaviorists, there are only a few certified dog behaviorist positions. These individuals could be Certified Applied Animal Behaviorists (CAAB), Associate Certified Applied Animal Behaviorists (ACAAB), members of the International Association of Behavior Consultants (IAABC). A CAAB must hold a doctorate in a science-related field, have a minimum of 30 credits in animal learning and behavior science, have a minimum five years of experience, and be a contributor to the Animal Behavior Society presentations. An ACAAB must hold a master's degree in a relevant field with 30 credit hours in related coursework, have at least two years of work experience, and be a contributor to the Animal Behavior Society. 
Another related behavioral certification is a Board Certified Behavior Analyst. To become a behavior analyst (BCBA), an individual needs to complete a relevant master's degree plus 2000 hours of experience. This credential is not specific just to dogs, and instead emphasizes the science of behavior as a whole. Many BCBAs that work with animals also pursue additional, animal-specific training opportunities to ensure they are considering the whole organism. 
A Certified Behavior Consultant Canine – Knowledge Assessed (CBCC-KA) is a certification offered through the Certification Council for Professional Dog Trainers. The Certification Council for Professional Dog Trainers also offers the Certified Professional Dog Trainer – Knowledge Assessed credential (see below). An individual with CBCC-KA often has received dog training credentials and wants to extend their knowledge and practice to include behavior modification. This credential requires 300 hours of experience working specifically on behavior problems, have references, and pass an examination. 
All of the above-mentioned behavior-related roles require a formal application process that is reviewed by experts in the field, oversight of active members, and continuing education hours to ensure the professionals are up-to-date on the science of behavior.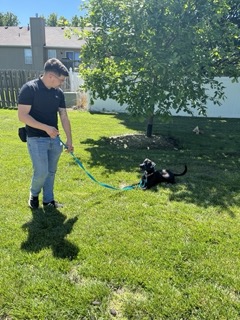 Dog Training Credentials
An animal trainer also requires additional time and effort to obtain their credentials. Dog trainers can work in a variety of roles, from private-in-home work to group classes or even dog sports. They tend to specialize in skill acquisition or teaching new commands to dogs such as obedience and manners.
A Certified Professional Dog Trainer – Knowledge Assessed (CPDT-KA) must complete 300 hours of hands-on experience with dogs and have that verified by another CPDT. They are also required to pass an examination prior to certification. Some dog trainers work in group settings such as with group obedience classes, while others work in a private-in-home capacity. Beyond the CPDT-KA, there is a skills-based certification, the Certified Professional Dog Trainer – Knowledge and Skills Assessed which requires prospective trainers to complete hands-on exercises to test for expert hands-on training and instruction. 
There are a number of other credentials that are offered by what is called a first-party certification. This means that the individual receives a certification after they complete the company or school's specific program rather than from an outside or third-party source. An example of these certifications includes the Animal Behavior College Dog Trainer (ABCDT). Just because the credential is a first-party and not a third-party certification does not necessarily mean that the certification is not as strong, but we do advise pet owners to look into the specific trainings of these programs prior to hiring (as with any of the certifications listed) because these programs may place emphasis on different training techniques and styles.  We prefer third-party certifications due to an independent organization verifying the trainer's competence.
What is the difference between a dog trainer and a behaviorist?
A dog trainer typically focuses on obedience behavior, obedience, or even more specialized work such as dog sports. Many dog trainers have educational history in learning theory and use principles of learning in their practice; however, unlike behaviorists, it is not a requirement for certification. Certified professional dog trainers are not automatically behavior consultants and so it is important to look into additional educational histories if you want a dog trainer with a background of behavioral consultation.
A behaviorist, a behavior analyst, or a behavior consultant may do obedience training such as skill acquisition, but also can and often focuses on behavioral concerns owners and their pets may face. These include reactivity and aggression, separation anxiety, resource guarding, and compulsive behavior, among others. Behavior consultants and others focus on using related fields such as behavior analysis and canine ethology to address these behavioral concerns. An important consideration when choosing a trainer for your own dog is that a behaviorist would be able to identify potential behavior concerns early, even if they are only working on obedience. For example, a behaviorist may be able to identify early signs of resource guarding in a puppy that signs up for a puppy manners and obedience program. A competent dog trainer can also be an excellent option and may refer you to a specialist if they notice a problem.
As you may have read in our other blogs (if you haven't checked them out, I invite you to do so!), behaviorists and behavior analysts aim to assess the function of problem behavior to identify why these behaviors may be occurring. Then, using the principles of behavior with additional understanding of canine ethology, behaviorists and behavior analysts can effectively treat these behavior concerns. At the end of the day, you are the one who will be making decisions for your pet and we advocate for doing some research before making that decision.
Citations
Fisher, W. W., Groff, R. A., & Roane, H. S. (2013). Applied behavior analysis: History, philosophy, principles, and basic methods. In W. W. Fisher, C. C. Piazza, & H. S. Roane (Eds.), Handbook of Applied Behavior Analysis (pp. 3-16). New York: The Guilford Press.
Skinner, B. F. (1938). The behavior of organisms. Action, MA: Copley.