Cookouts, sparklers, lakes and pools, fireworks, and good company. What's not to love about celebrating the 4th of July? For us humans, July 4th is full of excitement, gratefulness and good times. However for some dogs, the festivities that come along with this holiday can be a little more startling. According to the American Humane Society, July 5th is actually the busiest day of the year for most shelters. We want you to have a good time and for your dog to stay safe, which is why we are listing our trainers' top safety tips and management surrounding this year's celebrations.
Consider leaving your dog at home for large gatherings and celebrations
If you have a nervous natured pup, have a new puppy or dog, or aren't sure of your dog's demeanor in these situations, as much as you may want them to join you, the festivities and noises may be overwhelming for them. The safest option is to leave them at home where you can guarantee they are comfortable and safe.
If you are going to take your dog with you, take a look at our Heat Safety and Safety Around Seasonal Items blogs before heading out.
Allow them an opportunity to use the bathroom and burn some energy prior to nightfall
Prior to leaving your home or before fireworks begin, give your dog a nice long walk or throw the ball in the yard to burn off some steam. This can help in reducing anxiety once the festivities have begun. Be sure to offer them an opportunity to use the bathroom prior to nightfall. If you need to let them out during fireworks or festivities, walk them on a leash in your backyard for extra security. If they still seem anxious after the fireworks and festivities have ended, continue walking them with the leash until they are no longer exhibiting nervous behavior.
Keep your animals indoors AND bring them in before dark
Even if you feel your yard is secure, it is better to be safe than sorry. If you need to leave your home, bring your dog inside and ensure they are in a secured area, room or even in their crate. In severe separation/noise stimulated anxiety cases, we have seen dogs break through glass windows and destroy fences or other in-house property. Due to the increased escape risk of a startled animal, be sure to set you and your dog up for success and peace of mind while you are away. Lastly, bring them inside well before nightfall as some people like to get started with fireworks early.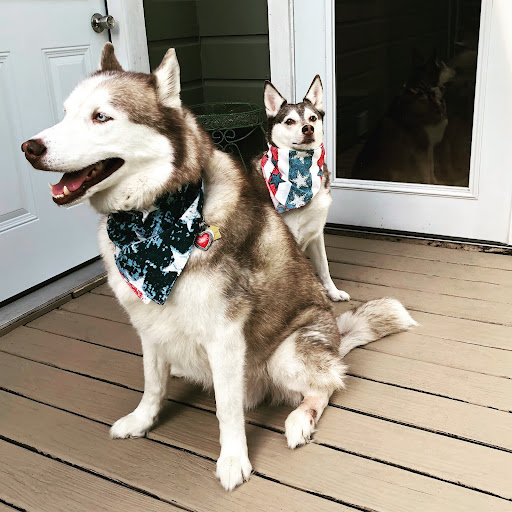 Create a safe space for your dog
Keep them in an interior and quiet space, ideally away from windows if possible. To increase safety and assist in reducing anxiety, lock the front, back doors, and exterior gates, close blinds, cover their kennel, turn on a tv or music, and keep the space dark. Also offer your dog's meal, special treats, and busy toys such as bones and kongs during the night to help with developing a positive association with the noises. Mix in something tasty as needed to help get them going! You can also try out a thunder jacket as a temporary assistance. If your dog falls into a more severe category of noise stimulated anxiety, you may consider reaching out to your veterinarian as needed for additional assistance prior to the big day.
Consider a pet sitter if you are traveling or away for the day
If you know your pet is an escape risk or nervous in nature, you may want to think about leaving them at an entrusted boarding facility, hiring a pet sitter or asking friends or family to help keep an eye on them while you are away. The additional company could help your dog feel a bit more comfortable. Leave their caretaker a printed copy of this list of safety tips for additional peace of mind.
Be sure your dog is microchipped and tagged
We hope that all of these tips prevent an escape from occurring, however, always be sure, even not on holiday's like this, that your dog is properly tagged and can be identified if they were to get out. Have your dog wearing a properly fitted collar with up to date identification tags. As secondary insurance, be sure to microchip your dog and update the contact info on the microchip.
With all of these tips, we hope you can enjoy your 4th of July holiday with a little more confidence and peace of mind! If you have a dog that engages in separation anxiety, or environmentally stimulated anxiety due to noises, etc. and you are interested in learning or addressing the behavior more hands on, we recommend reaching out to a local certified behavior consultant. If you are in the Houston or Greater Houston area, we are here to help! Contact us today, and happy celebrating!