We love fall just as much as you do! The weather, the color change, the scents, and let's be honest, the coffee flavors too. Fall is one of our favorite times of year in Houston to get our dogs out and about. There is one pumpkin patch in Houston we just love, not only because you get to pick that perfect pumpkin, it's dog friendly too! We want to make sure your first experience bringing your puppy with you to the pumpkin patch isn't your last. To do that, we've put together first, a breakdown of tips and not-so-spooky tricks to work on before and during your trip! Then, we give you the scoop on the best dog-friendly pumpkin patch around town.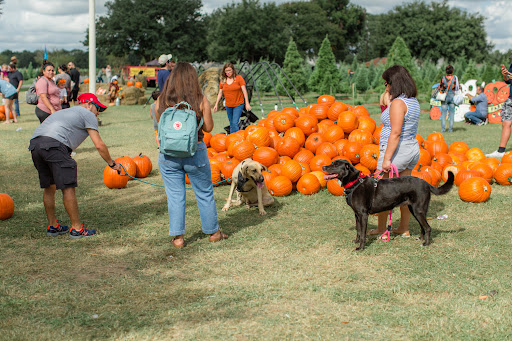 Working on Manners and Obedience in a Challenging Setting
If you have already started working on your puppy's manners and obedience at home and in the neighborhood, working on your puppy's obedience here is going to be a great way to improve on their obedience commands in a new and challenging way! Before heading out, we recommend that you set yourself a list of goals that are attainable for your puppy's current skill set. Focus on these 3 areas:
Pick one skill

Focus on one skill, such as leash walking, sit stay, or jumping. As they get better, you can start combining skills together.

Distance

Keep in mind how close you are to the distractions you are using. If it is too difficult, you may need to create more space or practice in a quieter environment first.

Duration

Keep repetitions short and sweet to start so that your puppy can start off successfully. As your puppy gets better, you can increase how long you are working on a particular skill.
Here are some examples we've put together with the 3 areas in mind:
Leash walking in good position 30ft away from children (Practice for 5 minutes, then give some love and play)
Ask for a sit-stay or a down-stay at 20ft away from the petting zoo fences. Hold for 10 seconds to start.
If someone asks to pet your puppy and they tend to struggle with jumping, step on the leash so they cannot jump on the person. Work on their auto-sit and how long they can maintain it using treats and praise. Start with 3-5 seconds.
Working in high-traffic environments can be a great way to work on socialization and mental stimulation. Be sure when practicing to bring along a treat bag with their kibble or treats of choice to reward them, and most importantly, keep it fun!
Dog-Friendly Pumpkin Patch in the Greater Houston Area
There are many pumpkin patches around Houston, however our favorite and one of the only ones that allow dogs on site is at Old Time Christmas Tree Farm in Spring, Texas. The farm is open seasonally, and the pumpkin patch and activities get started on October 1st all the way through October 31st. The farm is open Fridays from 4-7 PM, and Saturdays and Sundays from 10 AM-7 PM.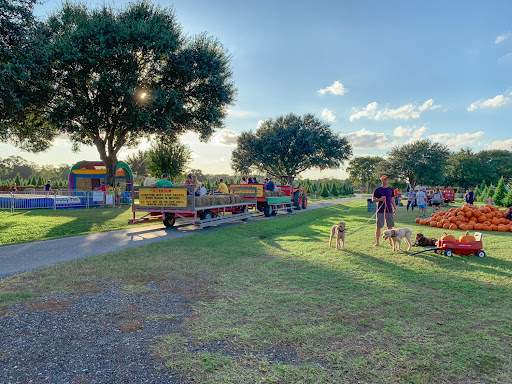 For just a 10-dollar entry per person (anyone under 2 is free!) you can venture through the farm which offers 8 different attractions such as a train ride, hay ride, petting zoo, and inflatable activities for kids. There are also a ton of photo opportunities and food options such as BBQ and funnel cakes. Attraction tickets and pumpkin tickets are sold separately.
As for your pup, the farm allows pets as long as they remain on a leash while you are visiting. Your puppy will even receive a complimentary "doggie bag" at the entry gate! They do allow well-mannered pets to ride with you on the train and hayrides, however, if you are going to do so we recommend to be extremely careful. Make sure their leash and collar are properly fitted and keep a good hold of them. If you are unsure how your puppy will react or your puppy tends to get nervous easily, you may opt-out of this part. Pets are not allowed inside the petting zoo or on the inflatables, however, those attractions would make great opportunities to walk around the outside and practice some obedience!
Happy pumpkin picking! And if you are interested in having a trainer work on some one-on-one sessions with you and your puppy to work on these or other skills, reach out to your local behavior consultant, or contact us today!