Summertime is here! Whether you have kids home on summer vacation, you're looking for a weekend getaway or even just a day trip, we have put together a list of Houston's best dog-friendly beaches and lakes that are just a short drive away.
25840 FM 1485, New Caney, TX 77357
This scenic park is dog-friendly, however, your dog must remain on a leash and they are not allowed inside the park buildings. There are many beautiful trails, and they may be able to wade in the shallow water on a leash. There are also overnight camping opportunities as well. Be ready to rinse them off after with water bottles or as soon as you get home to avoid skin irritations or bringing any unwanted "friends" home afterward.
601 Tremont St. Galveston, TX 77550
Named as one of the "10 Best Beaches for Families" by the Family Vacation Critic, Stewart Beach, just inside Galveston, is a dog-friendly beach as long as your dog is on a leash. There are concessions, bars, restrooms, showers, and volleyball courts available for use to name just a few of the many amenities.
1923 Boddecker Dr., Galveston, TX 77550
There are 70 acres of beachfront here, and they offer private chair and umbrella rentals. The Cantina offers food and drink service directly to your chair and offers boozy options too if that's up your alley. The beach is dog-friendly and they have a concession stand with supplies such as towels or sunscreen in case you forgot anything at home. This part of the beach does require your pup to be on a leash while visiting, but the amenities are worth the visit alone.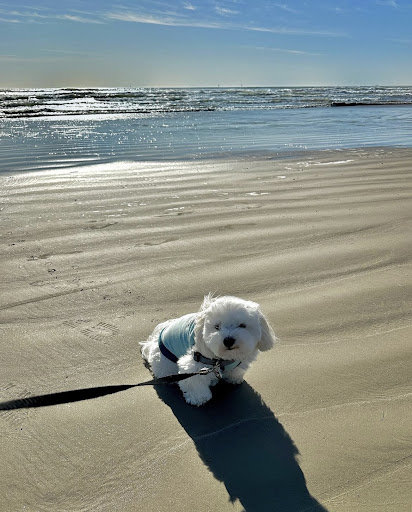 500 El Jardin Dr, Seabrook, TX 77586. Pasadena, TX 77506
Located just past Pasadena, Jardin del Mar faces Galveston Bay and is located northeast of Seabrook and southeast of Shoreacres. You can find bench areas, fishing spots, and great views here. You can definitely bring your canine companion with you, they will need to remain on a leash per their beach laws here.
1 Texas City Dike Rd, Texas City, TX 77590
The Texas City Dike is currently the longest man-made fishing pier in the world. There are ¾ miles of beaches along the Dike, and many available restrooms and cleaning stations for you to use. The Dike is best known for its fishing! So If you are looking for a dog-friendly fishing spot, this is the place for you! Your leashed-up pup is welcome to come along with you for the adventure too.
Brazoria County, TX
Surfside has been voted one of Texas' best beach vacation spots. Surfside Beach, located 1 hour south of Houston and 40 Miles west of Galveston has countless amenities, from places to stay, and eat, boat tours, surfing and paddle boarding, jet ski rentals, island massages, and more. There is plenty of space for you and your dog to explore along the oceanside, and if you want to stay overnight, many of the local hotels and rentals are dog-friendly.
Now that you know some of our favorite "watering holes", we'd love to see your adventures! Tag us on Instagram @beyondthedog! If you haven't yet, check out our Water Safety blog so you know how to prepare before your next big beach adventure.