Although dog training is kind of our thing, we are always using social media such as facebook and instagram to connect with more of you and your pets. We totally understand that the perfect pic can truly capture the adventures and time spent with your dog in a way that isn't only aesthetically pleasing, but also gives you a great way to look back on those moments forever. Today, we are going to follow along the adventures of one of our very own trainer's dogs, Scout! Scout is a Scotch Collie, and she is going to take us all over Houston to show off some of our favorite "instagrammable" photos spots!
GALLERIA
Gerald D. Hines Waterwall Park
Where: 2800 Post Oak Blvd, Houston, TX 77056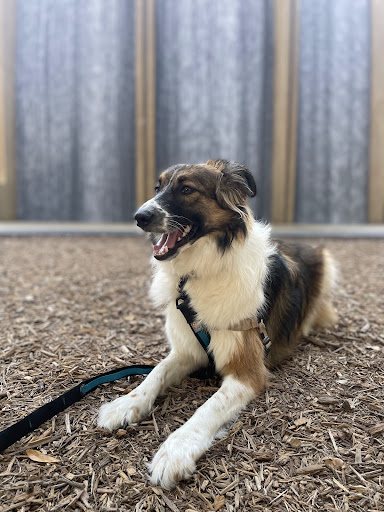 You will find this spot tucked away embedded into a local area park. The Water Wall is a large crescent-like tower structure that rains down over 11,000 gallons of water per minute! In the heat of summer, if you stand close enough we find most dogs love the refreshing mist that comes off of the art structure.
RICE VILLAGE
Space City Mural by Michael C. Rodriguez
Where: 6205 Kirby Dr.
Hidden around the backside of Shake Shake, you'll find this mural located on the parking garage stairwell. It is a two story piece which showcases a female astronaut, the Houston skyline and space themed artistry, which nods to Houston's very own "NASA". This was one of our favorites of the day, as the vibe is a bit more funky using the staircase to add some extra flair.
DOWNTOWN/EaDo
Where: 1500 McKinney St.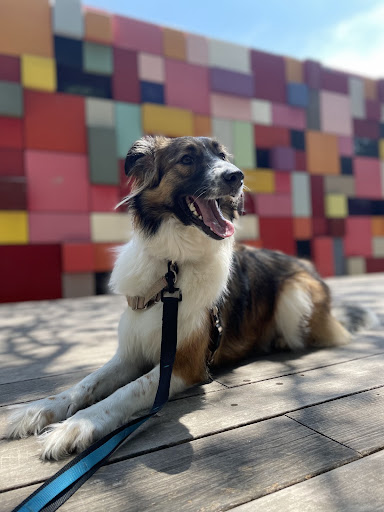 Discovery Green is located in the heart of downtown Houston right next to the GRB Convention Center. This urban park hosts rotating art installations throughout the year, flea markets, festivals, yoga and zumba classes, kayaking in the summer and ice skating in the winter on the man-made lake. Dogs are welcome to all areas of the park, outside anyways! There is plenty of green space for you and your dog to hang out, and there is also a dog park here on the east end of the park near The Grove restaurant in case you want to give your dog some off leash time. From beautiful staircases, gorgeous oak trees, and the ever-changing art, the photo opportunities around this park are endless.
Houston Graffiti Building
Where: 1313 Travis St., Market Square Park Downtown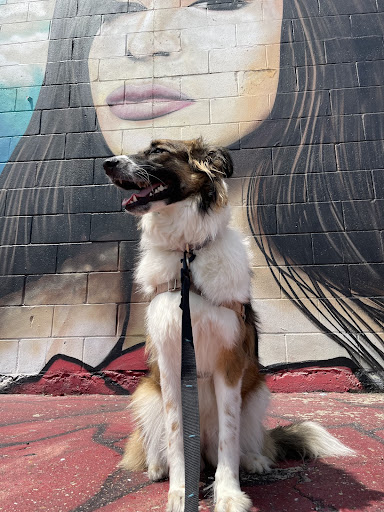 Just on the other side of 59 South/I-69 in EaDo you will find this industrial building. It features rotating street art and murals. One of the most popular installments here is the "Houston is Inspired" mural by GONZO247. He is known as Houston's most famous aerosol artist. Scout here is posing in front of a newer art piece, dedicated to Tejano pop icon Selena. Fun fact: Selena was born in Texas, Lake Jackson actually! You can find many murals of her around Houston. If you look at the larger mural in person, we love the addition of the red roses that add that extra pop.
We Love Houston – by David Adickes
Where: 2305 Polk St, Houston, TX
If you are from Houston, you may remember driving past this sign on the I-10 Freeway somewhere between 2011 and the last few years. It has since moved behind 8th Wonder Brewery in EaDo and right across the street from EaDo dog park. The letters were sculpted by the same artist above who also created Houston's infamous President Heads, the giant Beatles statues. After you visit and get your pic, 8th Wonder Brewery is dog friendly in their back picnic area and offers a variety of local seasonal beers on tap. (Feature photo)
MONTROSE
These next 3 spots are actually walking distance from one another on the same side of the street in the heart of Montrose.
Leopard Lounge
Where: 1639 Westheimer Road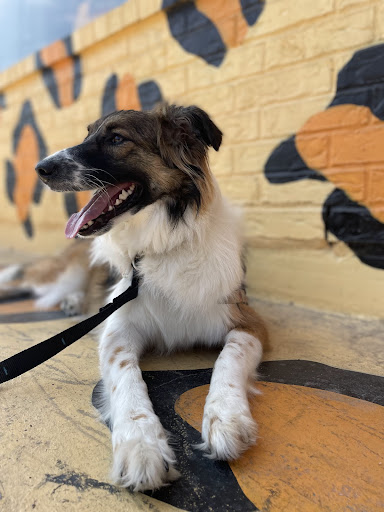 You won't miss this storefront with its funky leopard print on the walls and sidewalk. You're pup won't be able to join you inside but if you are searching for vintage clothing ranging from the 1920's to the 1980's, or cool concert tees and more, this is your store!
Pavement Modern & Recycled Fashion
Where: 1657 Westheimer Rd.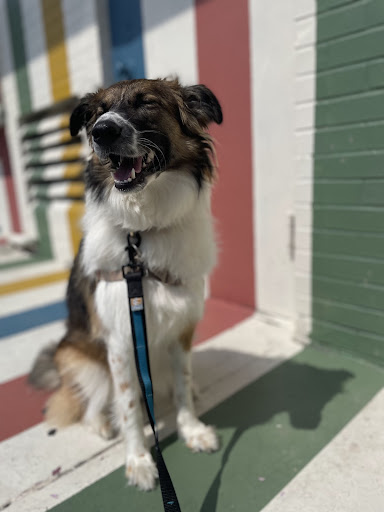 The entire parking lot side of this popular Montrose resale shop is covered in rainbow pinstripes, need we say more!
Biscuit Home
Where: 1614 Westheimer Ave.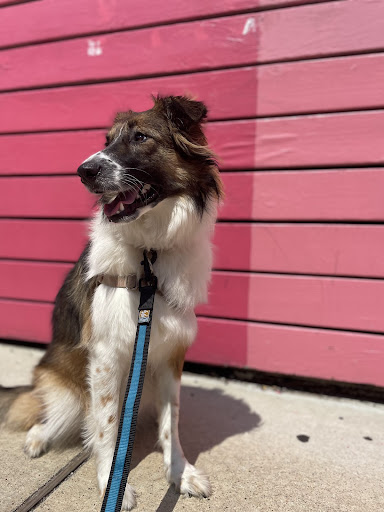 Scout couldn't help but be excited to sit in front of this pretty in Pink Paint Wall mural in the alley side of Biscuit Home. The opposing wall is covered in graffiti murals too so you get a 2 for 1 here!
MIDTOWN
Whole Foods
Where: 515 Elgin St.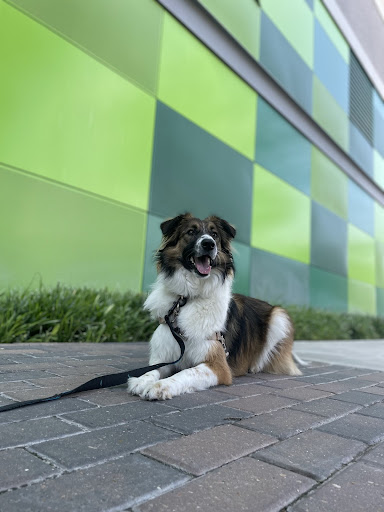 Last but not least, this unconventional wall art is located on the side of a Whole Foods! We are living for the green checkered wall, and the shade provided by the two story grocery store made it a perfect ending for Scout's photo adventure day!
Now that you have all of our favorite spots for photo opportunities with your pup, we'd love to see them in action! If you visit any of these spots or have any of your own favorites to add to the list, tag us on IG at @beyondthedoghouston.