Get ready to celebrate St. Patty's Day with your pup at the St. Pawtrick's Day Event hosted by Houston Pets Alive! at Powder Keg! We're feeling extra lucky because this event is FREE, all you need to do is register online to enter.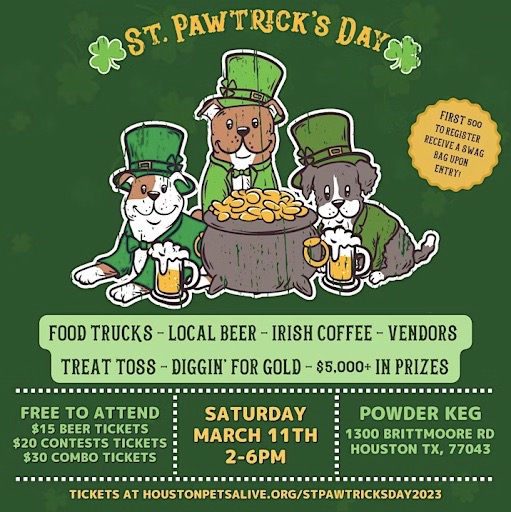 When: Saturday, March 11th from 2:00 PM to 6:00 PM
Enjoy a festive day of fun with your furry friend, "all while helping save the lives of at-risk cats and dogs and find them loving homes through Houston Pets Alive!, a local rescue saving Houston's pets in need." Here are a few of the activities you can enjoy at the event:
Treat Toss
Diggin' For Gold Competition
Local beer, Irish coffee, food trucks, & vendor markets
Dog adoptions
Prizes & more!
For more information about the event or if you wish to register for free, check out the Houston Pets Alive! website. Happy St. Pawtrick's Day!