When it comes to feeding your puppy, the first thing that comes to mind is a traditional food bowl. There is absolutely nothing wrong with a good ol' food bowl, however we also know every puppy is different! We are here to give you some tips on alternative ways to feed your puppy that can help with obedience, behavior modification, housebreaking, and mental stimulation!
In general, we all know how important food and nutrition is, so before we get started it is always most important to clear your puppy's diet with your vet and to utilize these tips to assist in your puppy training journey.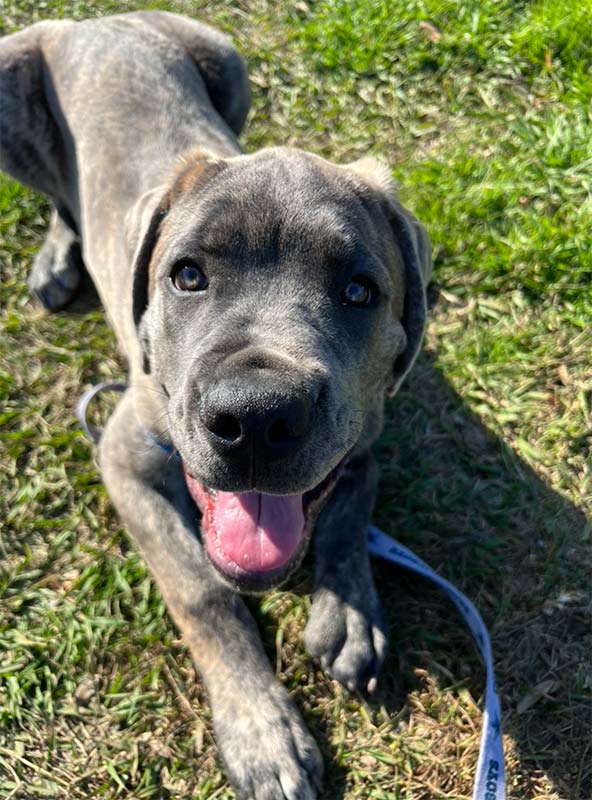 Let's first talk about food economy! What is food economy? How can it help you with your puppy? Food economy is a practice used frequently by our trainers to reinforce a specific behavior to occur more often by creating a motivation for the food. A great example for this is your paycheck! If you were given your paycheck at the beginning of your pay period, and didn't have to go into the office or complete work hours, you may be less motivated to work over the next two weeks because you were "pre-paid" versus being paid AFTER the two weeks of work completed. Same idea here! Food, typically something that is already reinforcing, becomes extra reinforcing when your puppy works for it. Since most puppies are eating three meals per day, let's talk about how to get your puppy's food and mealtimes to "work" for you!
Food and Housebreaking / Crate Training
Before we start, if you have a puppy who you are currently housebreaking and you are looking for some additional advice, we highly recommend heading over to check out our housebreaking blog here first. You can also listen to our CFO, Sean Savage, CDBT, CPDT-KA discuss housebreaking in a vlog even further here. There are two ways that you can feed your puppy to help you if housebreaking is a primary goal for you.
1) Spread one or two of your puppy's meals on the bottom of the crate floor
This is going to do two things. First off it is going to assist in developing an early positive association with the crate, Secondly, no one likes to poop where they eat! By spreading the kibble on the crate floor (do not use a bowl) this is going to discourage your puppy to use the bathroom in their crate and encourage mental stimulation.
2) Reinforce with a treat when your puppy goes outside to potty.
Use something super tasty your puppy doesn't "normally" get as extra reinforcement when your puppy goes outside to use the bathroom.
Food and Developing Relationships in the Home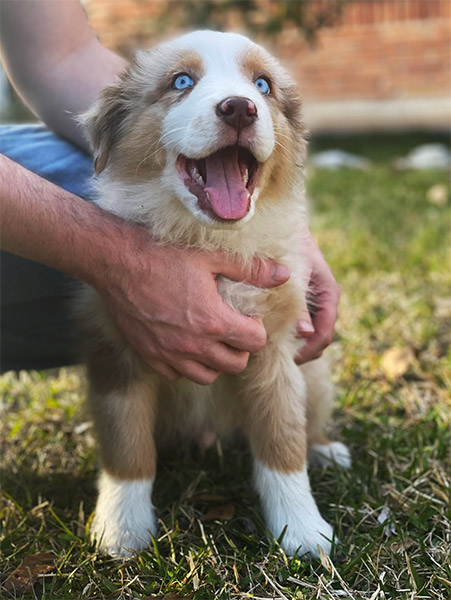 If you notice a lack in bonding with one of your main household members (a spouse, etc.) OR if you have children, under supervision, have your child hand feed one of your puppy's meals.
Mealtimes can be a great opportunity to help your puppy develop a positive relationship with other members of your household. Rotating who feeds your puppy's meals can help encourage bonding between all members of the household and it is also a great opportunity to work with younger children on developing an appropriate and gentle relationship with your newest member. We find that this can also be an easy way to get your children involved without "interrupting" training goals or time.
Food, Training and Mental Stimulation
Use one of your meals to train with your puppy on obedience or for general mental stimulation/energy burn.
If you are ready to get a jump start with your puppy on training, if your puppy is eager to eat and will work for kibble, that's a great way to knock out two birds with one stone! We recommend starting with low level behaviors such as "sit, place, and name recognition" and then moving up to harder behaviors such as "wait, down, and come". Training is going to serve as a great source of mental stimulation for your new puppy as well. If you have an active and rambunctious puppy, training them mentally is going to help burn off some of that excess energy.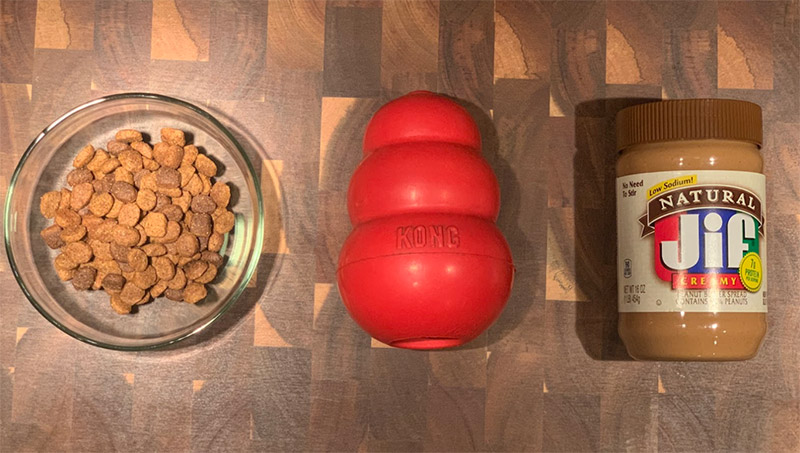 Don't have time for a long playtime, walk, or training session and are looking for a low effort way to burn off some of your puppy's energy? For one meal time, feed your puppy out of an enrichment toy.
Great examples are snuffle mat, kongs, busy balls, and puzzle toys.
Trainer tip: If your puppy is blowing off the puzzle toy, make it easier to start! If your puppy is breezing through the puzzle toy, you can make them more difficult by adding a paste or by freezing the toy. With a kong, we recommend 90% kibble and 10% peanut butter mashed down with water and stuffed in a kong and then frozen. For safety, if you are going to freeze your puppy's kong, please make sure there is a point of air access that can still occur to avoid tongue suction into the kong. You can do this by putting a straw in the middle and then removing to create an air hole.
Food and Socialization
If you haven't checked it out yet, we talk all about what socialization is, and how to properly and safely socialize your puppy in a blog here. You can also watch our very own CFO, Sean Savage CDBC, CPDT-KA talk about socialization in a vlog here.
As a recap, the most important time to get your puppy into and around new people and environments is in the "sensitive period" which falls between 3-12 weeks of age. We discuss safe ways to accomplish this at such a young age in the blog and vlog's above. When it comes to mealtimes, as we said earlier food serves as a great source of positive reinforcement.
If you are already taking your puppy out in public, if you can, use that outing as a chance to feed a meal and/or give treats. Developing a positive association and experience with the "outside world" can and will have huge impacts on your puppy as it develops into adulthood. For safety reasons, please be sure if you are using this method, feed by hand or in a bowl, NEVER off the ground to avoid illnesses. Be sure to keep a safe distance from other dogs as well while giving food, since we cannot guarantee the behavior of the other dog. We want all experiences to remain super positive!
We bet you didn't even realize how many options there are to feed your puppy that can benefit you both long term! If for any reason your puppy is struggling to eat with any of the following, we would recommend reaching out to your vet on the nutrition side if and as needed, and a behavior consultant and trainer on the training side who can schedule time to walk you through a more tailored solution for your puppy. If you would like more training information, we have a team member ready to speak with you! Contact us today and we'd be happy to help on your newest adventure.