With some of the highest temperatures on record, summertime in Houston can be unbearable, especially for our four-legged friends. Licking frozen dog treats, playing with water toys, and going to local Houston dog parks with water features are some of the many things your dog can do to stay cool and entertained in hot weather.
For a refreshing, entertaining treat, try this "cool" ice lick enrichment treat that will provide hydration, nutrition, and mental stimulation.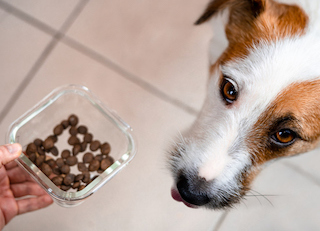 Ice Lick Enrichment Treat
Supplies You Will Need:
Freezer space
A container (a bowl or bundt pan work great)
Dog-friendly foods such as veggies, fruits, cheeses, or even meats!
Water
Optional: A second liquid or watered-down paste (beef or chicken broth, plain yogurt, peanut butter, etc.)
Freezing Your Ice Lick Enrichment Treat:
Place a few pieces of your dog-friendly treats on the bottom of a freezer-safe container.
Add water and an optional second liquid/or paste addition, just enough to cover the treats.
Freeze for 30 minutes.
Repeat steps 1-3 until you have filled the bowl to your desired ice lick size.
Freeze for at least 4 hours until frozen solid.
When you are ready to use your ice lick, run warm water over the bottom of the container to loosen the ice from the sides. This enrichment activity will definitely be messy, so we recommend placing the ice outside or in an area you don't mind cleaning up.
Looking for more ways to keep your dog cool in the summer? Check out our heat safety blog for more tips! If you're interested in enrolling your dog in "summer school", contact us today!