If you checked out our Best Way to Feed Your Puppy blog last month, we went through a few alternatives on how to feed your puppy aside from a food bowl. In today's blog, we are going to revisit some of those routines, and discuss the transition of feeding routines into obedience as your puppy grows.
To recap, food routines and meal times can be a great way to work on the following:
Family/Relationship Development Bonds
Mental Stimulation 
As you are accomplishing goals, we recommend keeping your meal times valuable for those goals you haven't quite nailed down yet. In general, we tend to see the first 4 of those goals when implemented early with age, can be faded out. At that point, you can really utilize mealtimes or kibble toward obedience and training goals.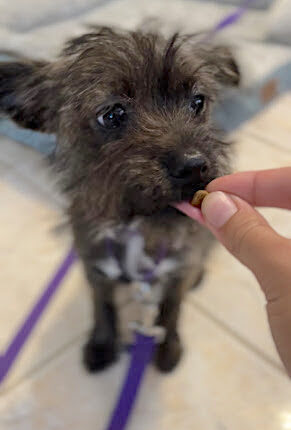 How to keep food exciting when training:
Once you are ready to start training your puppy, developing a strong motivation to train with food can be a key component in hitting your obedience goals.
Keep your puppy hungry and excited before a training session.
Most veterinarians initially recommend feeding three times a day. In the early stages, keeping your puppy on a food schedule is imperative for housebreaking, however if you are hitting goals with that and your puppy has no health concerns in regards to their diet, start using portions of their daily kibble to train.
If you want to train before 12 noon: Portion out a meal's worth of their kibble into a baggie and use that breakfast or lunch kibble as their training treats for the morning!
If you want to train after 12 noon: For breakfast and/or lunch, offer ½ portions of their kibble, and place the rest into a baggie. You can train with that in the afternoon!
If you want to train in the evening: You can likely feed your puppy their normal breakfast, however you may want to feed a ½ portion of lunch, or if you think your puppy is ready to graduate to twice a day feedings, skip lunch all together. Place their evening portion of kibble into a baggie and use it to train.
You can adjust this feeding regimen based on your puppy's needs. You may find that your puppy isn't super motivated and needs to be a little more hungry, feed them earlier or wait to feed their meal completely so that they are more excited to work for kibble when you are ready to work with them! You can absolutely give them their remaining portions of kibble after training so that they get their full meals for the day.
Develop an association of food and "working" for you
We recommend limiting "free" treats around the house. If tossing a nightly "greenie" into their kennel is part of your routine, that's okay! We are more referring to multiple treats being given during the entire course of the day just for being the cute bundles that they are. In general, if you are trying to work towards obedience goals, you'll want to:
Keep your puppy hungry so they don't fill up
Keep food and treats as valuable of a resource and motivator for them as possible.
If you look at food like currency or money, would you rather have to work for 20 minutes and then someone pays you 20 dollars? Or would you rather them hand you 20 dollars for free? Probably the latter! Same idea here. Your puppy is more likely to be motivated to work for you if they aren't waiting out for their "freebie" later.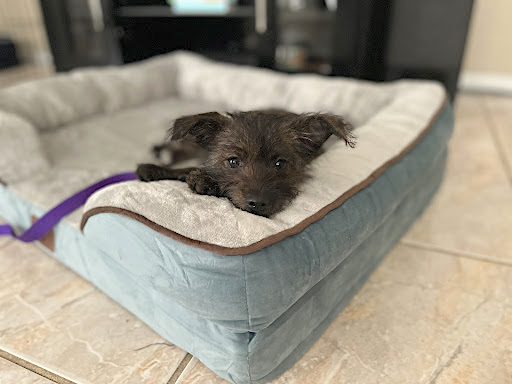 If you are ready to get a jumpstart on training, we recommend heading over to our Puppy Training Blog where you can find a few basic obedience training blogs such as autosit, down, come and more! If you are interested in one-on-one private training, reach out to a Beyond the Dog team member today!