Alright, so you made the decision to get a puppy, congratulations! Whether you have placed a deposit on a puppy that will come home months from now, or you made the decision to wander into a rescue with no intention of bringing home a dog, you now are extending your family by one (or maybe more!). To help you get started, we compiled a list of puppy must-have supplies.
Quality Food
When bringing home a puppy, start by keeping them on the same food they were eating with their previous household. Changing diets quickly can cause GI upset. However, if the food isn't what you want to continue feeding your new companion, slowly integrate new food into their current diet. We like Hill's Science Diet as a food option, but feel free to consult with your vet for your puppy's specific needs.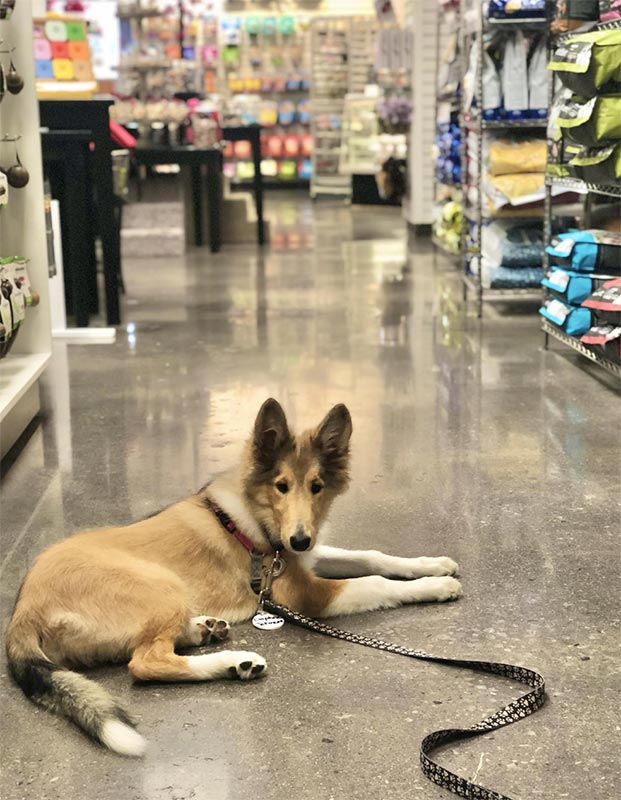 Crate
Your puppy should have just enough room to stand up completely and turn around (see our housebreaking blog for more information). If your puppy is going to grow into a crate, get one with a divider so you can jump start housebreaking without purchasing a different crate for each stage of life.
Leash
We like standard 6-ft leashes over retractable leashes. You may consider purchasing a few – we like having puppies wear a leash indoors while working on housebreaking and you may want a separate one for walking! Consider purchasing a chain leash for heavy chewers or a longer leash (like a long line) for potty breaks!
Collar
There are so many options for collars out there! We like "break-away" collars for everyday use as they will prevent strangulation if your puppy gets into trouble. There are plenty of local options and different patterns to choose from!
ID Tags
In addition to microchipping your puppy, ID tags on their collars with important information like your phone number can help a lost dog get back home.
Harness
We like the Easy Walk Harness for formal walks. If you are considering a program, wait to introduce it until your trainer works with your puppy!
Bed
There are plenty of dog bed options out there! We do not put bedding in the crate but having a bed in a shared space is great for teaching place.
Treats
We only use treats for a few specific behaviors, like housebreaking, with puppies. We like True Chews® because they are easy to rip into small pieces and made of quality ingredients.
Toys
Toys and appropriate things to chew on is a MUST for puppies. We avoid soft, plush toys but love other options like Kongs, antlers, and inedible bones.
Bowls
You will want to provide fresh water for your pup! See our house breaking blog to read up on food and water schedules. Although we use food for many activities other than just mealtime, a food bowl is also a part of our puppy supply list. See our blog on the Best Ways to Feed Your Puppy for more information!
Grooming Supplies
Each dog has different needs, but a brush, shampoo, nail clippers, and ear cleaner are all options for your pup. Chat with your vet about specific needs for your puppy!
The above list covers only the essentials. There are plenty of other options for supplies like dog bandanas and more to spoil your new addition!
If you have more questions about bringing home a new addition, we can help! Our trainers offer Private-in-Home sessions before your dog even comes home to set you up for success. Contact us for more information.