Looking for ways to spend a day out spoiling your dog and also want to support local businesses? Beyond the Dog can help! Our trainers are always on the lookout for fun, new places to train or stores to shop for toys, treats, and supplies. If you're looking for options outside of the typical chain pet stores, we've provided recommendations below for local pet businesses in and around the Austin area. You'll find unique toys, vast amounts of pet apparel and supplies, many pet grooming or self-wash options, and of course, always a friendly welcome and a small treat for your favorite four-legged companion.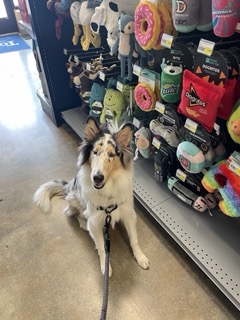 Thomlinson's has served the Austin area since 1946 and has valuable knowledge when it comes to dog and cat beds, toys, food, and supplies. They can offer recommendations on pet food, as well as sell supplies and supplements. If you are looking for a self-serve dog wash option, you can do that too! Pets are always welcome. Multiple locations.
This health food, pet grooming, and dog wash store brings a personal touch to its customers. They have so much to offer, from natural dog food options to grooming services or a do-it-yourself washing and drying station. The staff always makes time to say hello and offer recommendations for your puppy or dog. Multiple locations.
This Best of ATX Winner (2020 & 2021) provides locally sourced meals that are cooked in-house as well as top-of-the-line spa and grooming services. It's an adorable local shop that has everything from collars to toys, apparel, and beds. You can even throw your furry best friend a dog party! Barkin' Creek offers "customized dog-friendly cakes, mini-pupcakes, swag bags, and a live webcam to share the celebration!" Multiple locations.
Deemed one of the Top 10 Coolest Pet Stores in America by PET+ Magazine and Best Pet Store by Austin Monthly, Paws on Chicon is worth checking out to say the least. The Austin staple is an adorable, locally-owned store with unique toys, treats (try their homemade fro-yo!), supplies, and a self-serve dog wash! They take your questions to heart and find the toys and treats that you and your pet will love. They also provide free delivery! Multiple locations.
Healthy Pet is a local store that offers all-natural pet food, supplies, toys, and unique goods. Along with their self-serve dog wash stations, they also offer gourmet dog cookies. It's obvious this store is owned and run by animal lovers! Multiple locations.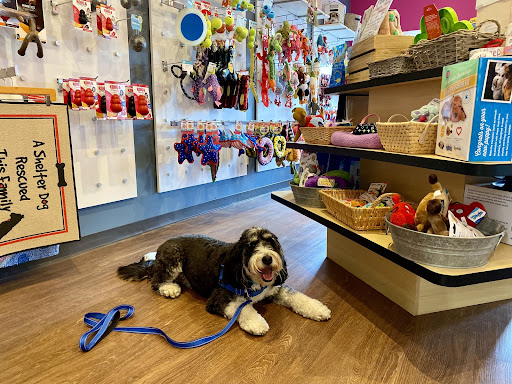 We hope you have the best time exploring the city and spending time with your dog! Reach out and let us know which of these stores you like best, or if your favorite isn't on the list and should be added. If you want to be able to take your dog out in public but feel like you can't, our behavior consultants and trainers can help! Our job is to help you and your dog feel more comfortable and confident regardless of the environment, and our dog obedience programs are set up to do just that.