Kicking off our series on dog-friendly hikes in Austin, are our South Austin options!
Before starting any hike, keep these tips in mind –
Your dog's heat tolerance. It gets HOT in Austin, especially during the summer. If your dog does not tolerate heat well, keep your hikes short and shaded. 
Water! No matter what time of year you are hiking, bring plenty of water for yourself and your dog. If your dog can be particular about new bowls, be sure to have them practice drinking water out of your travel bowls at home. 
Algae. Sadly, the algae in Austin's water can be deadly to your dogs. Always check any algae warnings before letting your dogs swim and be sure to fully rinse them once they get home.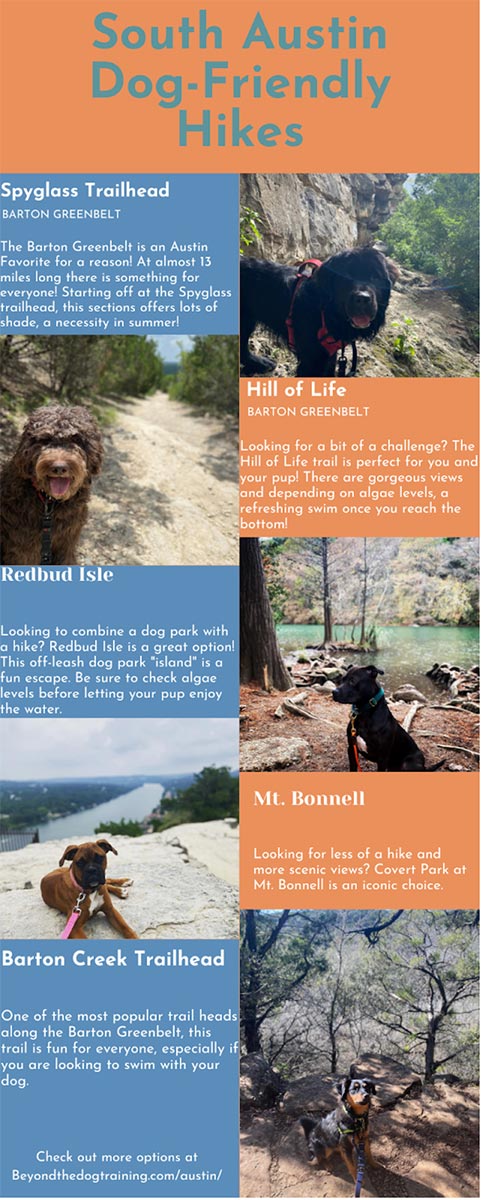 Now for the fun stuff!
You can not go wrong with any section of the Barton Greenbelt Trail! Swimming holes, limestone cliffs and gorgeous views are just a few of the many reasons we love this trail.
If you start at the Spyglass Trailhead, this area allows you some of the best views of the exposed limestone cliffs and is mostly shaded. This section of the trail was recently covered with stones, so be prepared for a rocky path! This trail is also wider than some of the other spots so if your pup prefers extra space, this could be a good starting point for you.
At the very end of the Barton Greenbelt is the Hill of Life! This challenging section of the trail offers a steep incline and lots of steps, a great workout for you and your pup! Depending on the season, you can be awarded with a fun swim at the bottom of the hill, a welcome treat as this portion of the trail is mostly exposed to the sun.
Looking for more off-leash nature exploration? Redbud isle can be a great choice! This little dog park "island" is a fun place to let your dog smell everything to their hearts desire. There is one short, main loop but there are also smaller trails closer to the water to extend your pup's wanderings. People also enjoy fishing here, so watch out for any hooks or bait that may have been left behind. With any body of water around Austin, please always check the algae warnings before letting your pups swim.
Short,sweet and scenic is the best way to describe Mt. Bonnell! There is a long set of stairs up to the top or you can enjoy the brief trail that is to the right of the main stairs. If you took the stairs, continue walking past the main overlook for the best views of the river and the Pennybacker bridge. Once you snap your pup's new profile picture, you can take the short walk back down to your car.
We are back on the Barton Greenbelt for our last trail recommendation! The Barton Creek trailhead is likely the section of the trail that Google maps will send you to. This portion of the trail is in between Spyglass and Hill of life and is incredibly popular, especially for swimming. Plan to arrive early on the weekends for a parking space in the summer. This trail is mostly covered but can be a tight squeeze, so if your pup requires extra space you may want to start off at one of the other trailheads along the Greenbelt.
Let us know if you explore one of these trails or have any recommendations that we should add to our list!