As the weather cools down and the rain increases, bringing your pup to outdoor cafes and breweries just isn't as appealing. So we put together the best indoor dog-friendly places for you to brave the chilly weather and bring your pup along for the ride!
Greater Goods Coffee
2501 E 5th St., Austin, TX 78702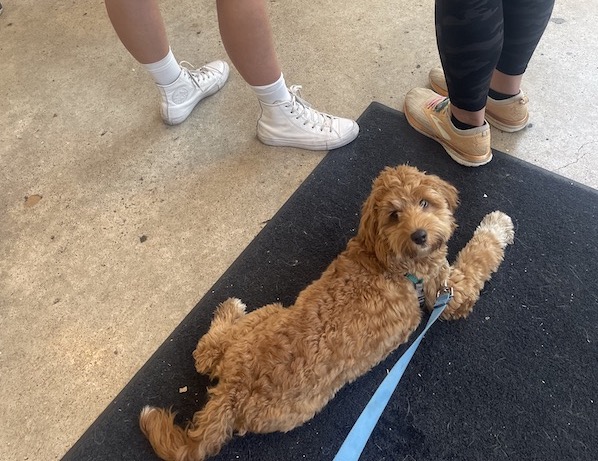 This superb coffee shop in East Austin is a great place to get some work done and bring your pup along. Calm dogs that can settle will do best here because it's pretty quiet. There is free wifi, delicious drinks and pastries, and cozy seats.
Genuine Joe's Coffee
2001 W Anderson Ln., Austin, TX 78757
This quirky coffee shop in North Austin is a great place to spend a chilly day! It has free wifi and great drinks and pre-prepared sandwiches and snacks. Grab a comfy spot inside with your pup, or, if the weather isn't too bad, go out to the deck to watch passers-by.
Cosmic Coffee and Beer Garden
121 Pickle Rd, Austin, TX 78704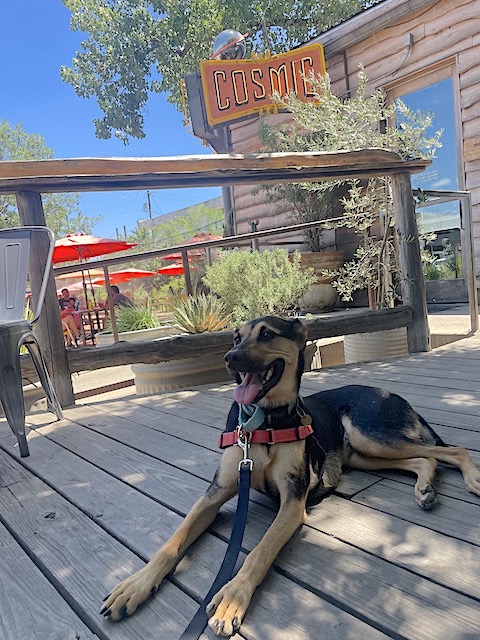 Cosmic has a great outdoor area with benches and chairs that are perfect for sitting with your furry best friends and enjoying the cool drinks and food trucks. They also have a small inside area and dogs are allowed inside! On rainy days it might be hard to snag one of the few seats inside but it's always worth a try.
Woof and Work
4930 S Congress Ave building a, Austin, TX 78745
Woof and work is both an indoor dog park AND a place to get some work done! The dog park is only open on Saturdays but you can visit any day with your dog and either put them in doggie daycare or sit with them while you work. All dogs must be over 6 months and spayed/neutered. Coworking is $15 for your first day, $24 for a half day (5 hours and less), and $35 for a full-day pass. Doggie daycare is $20 for a half day and $30 for a full day. This is a great way to get out of the house and make it a productive day for both you and your pup!
Celis Brewing
10001 Metric Blvd, Austin, TX 78758
Celis brewing has beer, food trucks, and an indoor area that is dog friendly! They have both indoor and outdoor spaces to hang out with humans and dog friends. So whether it's sunny or rainy and cold, Celis is the perfect place for some time with your pup!
Central Machine Works
4824 E Cesar Chavez St, Austin, TX 78702
This brewery has its own beer and also an extensive local beer list along with a kitchen serving up pizzas, sandwiches, and salads. The best part? Their spacious indoor area is dog friendly!
Still Austin Whisky Co
440 E St Elmo Rd Suite F, Austin, TX 78745
If you're in the mood for something stronger than beer and cider, head over to Still Austin, south of the river. They have a great dog-friendly indoor space along with an outdoor patio. Check their calendar for special events. Still Austin is always a nice place to hang out with friends and dogs alike.
Nomadic Beerworks
3804 Woodbury Dr. Suite A, Austin, TX 78704
This brewery is one of the only dog-friendly breweries open on Mondays! They have a great indoor space, an excellent selection of beers made in-house, and a panini and bar food menu. We love spending a rainy day with our dogs at Nomadic!
Austin Winery
440 E St Elmo Rd A1, Austin, TX 78745
Another dog-friendly South Austin location- but this one is for wine lovers! Austin Winery has comfy couches in their tasting room and is a great place to spend a cozy evening with your dog. Good wine with dogs makes the cold weather almost worth it!
Hopsquad Brewing
2307 Kramer Ln, Austin, TX 78758
Hopsquad's spacious indoor space is the perfect place to try its colorful brews and grab a pizza from Doughsquad. Their North Austin Location makes it great to hit after walking around the dog-friendly stores at the Domain or at the Domain dog park. Their indoor and outdoor areas are dog-friendly so whatever the weather brings, they have you covered.
If you would like help getting your pup more comfortable in public places, contact our team today for more information about our obedience training programs!