Nothing says spring like the wildflowers that pop up all over Texas! The bright red poppies, the pink dotted hills, and of course, Texas' state flower, the beautiful bluebonnets. We love enjoying these blueberry biscuits on hikes in the sunshine with our pups, or just at home. Blueberries are chock full of antioxidants, fiber, and vitamins C and K. Some dogs like blueberries on their own, but we like adding peanut butter for a delicious boost. We used small flower cookie cutters, but you can use any small cookie cutter, roll them into balls and flatten, or roll them out and slice them into small squares or logs.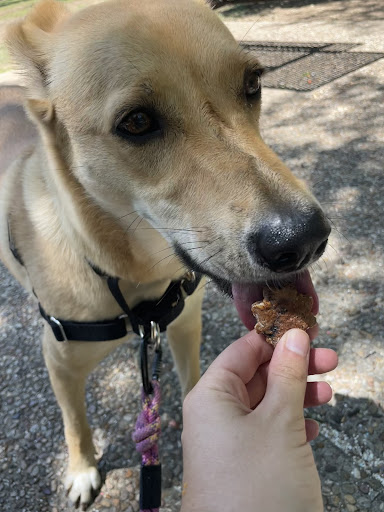 Ingredients
½ cup blueberries fresh or frozen
¾ cup oats (instant or old-fashioned)
¾ cup whole wheat flour (or white flour in a pinch)
1 egg
2 tablespoons peanut butter (make sure it's xylitol free!)
¼ teaspoon ground cinnamon
¼ cup flour for dusting rolling pin and counter
Supplies
Measuring cups and spoons
Spatula or wooden spoon
Baking sheet with parchment paper
Cookie cutter or knife
Blue(berry) Bonnet Dog Cookie Recipe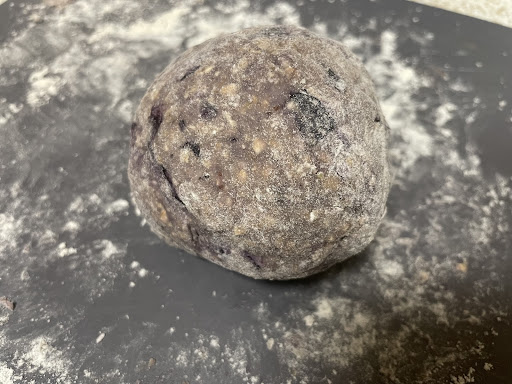 Preheat the oven to 350 degrees. Line a baking sheet with parchment paper. Smash thawed frozen blueberries with a fork or wooden spoon or roughly chop fresh blueberries into smaller pieces to release the juices. Add egg and peanut butter and mix. Then add oats, flour, and cinnamon and mix until a dough is formed (you should be able to form a ball with your hands without its sticking and coming apart on your hands, use more flour if too sticky, and water if too dry). Flour your rolling pin and working surface, we used a cutting board for easier cleanup. Roll out the dough to about ¼inch. Cut out the biscuits with your favorite cookie cutter (we love a flower shape for these!) or roll them into tablespoon-sized balls and smush them with your palm into cookies. Line the biscuits on the cookie sheet about an inch apart and bake for 30-35 minutes or until golden around the edges and hard and crunchy. Let them cool and enjoy! These can be stored in an airtight container for 2 weeks, in the fridge, or frozen.