Austin has so many great summer activities for you and your pup! With temperatures already hitting the triple digits in May, swimming might be a great way to cool off. Some dogs are natural swimmers, and others might need a little bit of help. For all dogs, if you plan on a day in the water, it's a good idea to have a life jacket just in case your pup gets fatigued or the water is deep. There are so many options for dog life jackets, where do you even start?
Dog Life Jackets Are a Great Option For:
Water Sports and Boating with Your Dog
Any time you are kayaking, boating, or in an area with deep water, it's a good idea to have your pup fitted with a life jacket. Make sure to have your dog wear the jacket multiple times before you plan on using it so that they get comfortable moving around in it. Running and playing at home will help to ensure that when they absolutely need to wear it, they can comfortably.
Teaching a Dog How to Swim
With a young puppy or a dog that cannot swim, having a life jacket can help ease them into learning how to swim. You can practice with them in shallow water while holding on to the handle and guiding them and then gradually giving them more freedom to swim and explore. Getting them to play while in the water and wearing the jacket is a great way to get them comfortable both with swimming and with wearing the jacket. Don't forget to read our "Dog Water Safety" blog for more tips!
Dogs That Get Fatigued Easily
Some breeds including most brachycephalic dogs (short snouts) and those with large barrel chests can get easily fatigued in the water. Their bodies and faces can hinder their ability to swim and stay afloat for long periods of time. For these breeds, having a life jacket will put less stress on their bodies while swimming and make your time on the water much more enjoyable.
Timid Swimmers That Need an Extra Level of Safety
Some pups are too afraid to get comfortable swimming and being around the water. Even if you do not plan on having them get in, a life jacket is a great extra layer of safety for these dogs just in case they end up in the water. Make sure that they wear the jacket multiple times before your water adventure so that they get comfortable wearing it. Some great times to wear it are on walks, while eating dinner, or while playing outside.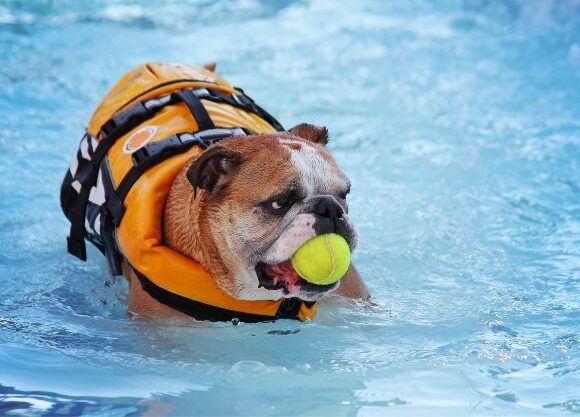 Key Features
Good amount of foam for floatation.

Life jackets tend to have more floatation than pet life vests, but some can be worn for warmth, and some are thinner for more confident and active dogs. Many jackets have a foam piece in the front to keep their chins up in the water.

Adjustable straps for a snug bot not tight fit.

Dogs come in so many different shapes and sizes, adjustable straps ensure that the jacket can be fitted to your dog's unique body type. The jacket should be snug but not tight (two fingers should fit comfortably beneath all straps). It should not move a lot or twist in the water so as to not hinder the wearer in swimming. Your dog should be able to move comfortably in the jacket so that when in the water, they can swim confidently.

If you want a D ring to attach a leash.

A D ring is a great feature if you want to attach the leash to the jacket. While most of the jackets do not have a D ring, a carabiner can be attached to the handle and a leash can be attached to that if their harness or collar cannot be reached while wearing the jacket.

Shape of jacket and shape of your dog (read the size guide!).

Like we said before, dogs come in all shapes and sizes. Dogs with longer torsos can be comfortable with longer jackets, while dogs with shorter torsos may not be. Carefully look at the size guide and measure your pup to see what is recommended before ordering. All of the jackets listed go by circumference at the largest part around their chest, just behind their front legs. You may need to look at the pictures to gauge length.

Bright colors to make them easily visible.

Some jackets have cute dorsal fins or mermaid tails attached, but the most important fashion feature is to make sure it's a color that can be seen from far away. Reflective seams and bright colors can help you keep an eye on your dog in large areas and in darker water.

A handle.

A handle is a great feature that is available on most life jackets. It can be useful when teaching a dog how to swim and also to help pull dogs out of the water and onto a boat, kayak, canoe or SUP.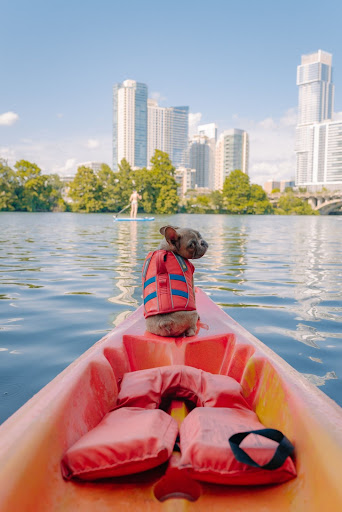 So Which Life Jackets Are Our Favorites?
Outward Hound Granby Splash Dog Life Jacket from Amazon is affordable and highly rated for performance and comfort. It does not have a D ring for a leash though so it might be good to get a carabiner to attach yours. It comes in sizes XS-XL and can fit dogs with a chest girth of 11-44 inches, or about 5-100lbs. Features include, adjustable straps, a sturdy handle, a nice amount of floatation, and comes in bright colors with reflective seams. It also has an extra piece of foam at the neck to keep your dog's snout elevated.
ZippyPaws Adventure Dog Life Jacket from Chewy is another great option and customers compare it to the highly rated but more expensive Ruffwear Float Coat for quality. This is the only jacket on our list that comes in a XXS for the tiny pups. It comes in sizes XXS-XL and can fit dogs with a chest girth of 6-40 inches. The straps are adjustable, but it has a smaller handle than the Granby. It also has an extra piece of foam at the neck to keep your dog's snout elevated and reflective stripes on the sides. This is a great option for smaller pups!
The Ruffwear Float Coat from REI is the most expensive option on our list. It's highly rated and loved by many dog owners. Since it's sold at REI, picking up the right fit is slightly easier if you live close to a brick and mortar store. Allowing you to try on different sizes instead of waiting for them to be shipped to you. The XS-XXL sizes can fit dogs with a chest girth of 13-42 inches and comes in cool colors! It's a little more streamlined in design with a larger opening for your dog's front legs to move freely. It does not have a D ring but it has a sturdy handle.
Another life jacket with thousands of 5 star reviews and a great price is the Vivaglory Ripstop Dog Life Vest from Amazon. It's the only vest fitted with a D ring to attach a leash and also has a handle and reflective stripes on the sides. This one comes in many colors but has the smallest range of sizes with the XS – XL only fitting dogs with a chest girth of 14-38 inches.
So whether you are spending your sunny days by the lake, by a pool, or adventuring out on boats, kayaks, canoes or SUPs, you and your pup will be safe and happy this summer!