Bringing home a new puppy is always an exciting time! Whether it is your first puppy or your first puppy in awhile, it can sometimes be overwhelming trying to figure out exactly what you supplies you need for them. To make it easy, we've complied our recommendations for "must-have" puppy items!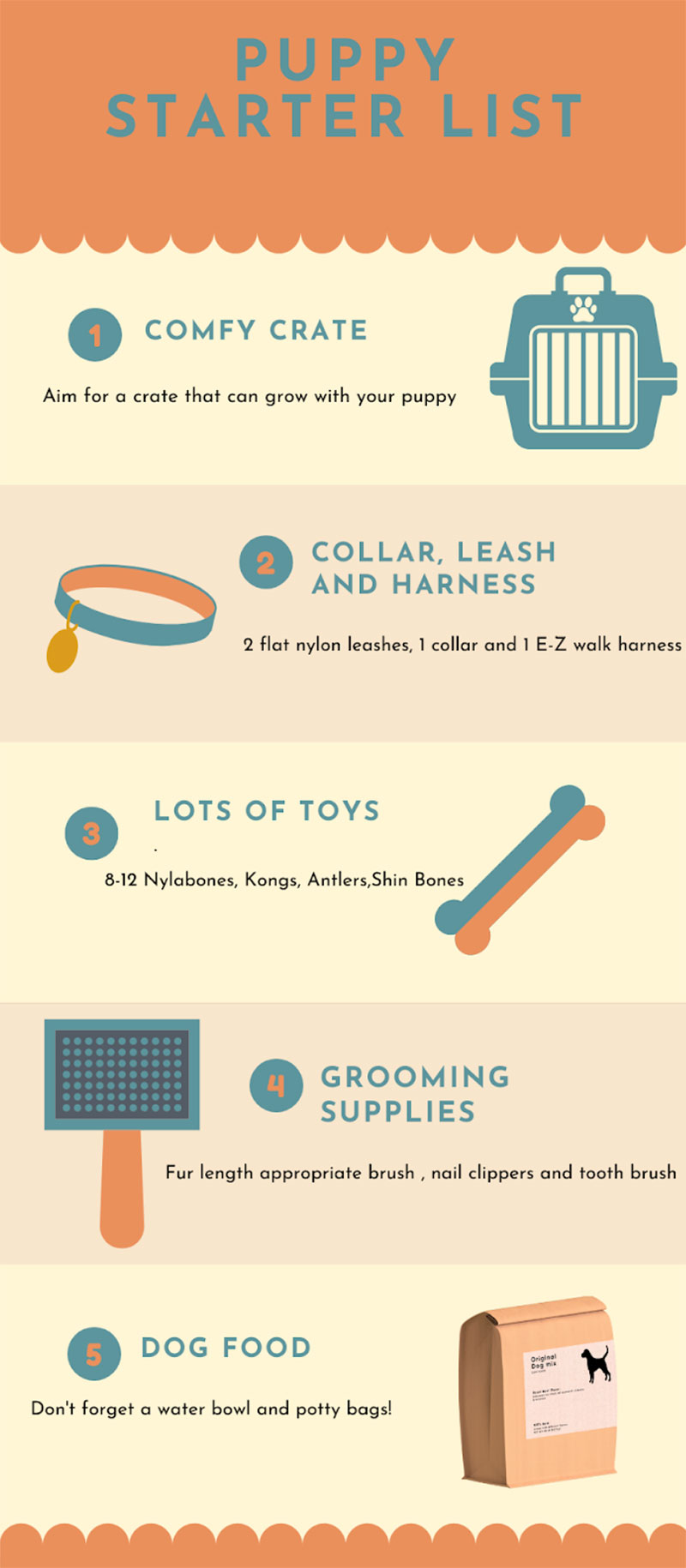 At the top of the list, is a dog crate.
Your puppy's crate is designed to keep them safe and out of mischief when you are not able to watch them. For large breed puppies, a wire crate is generally the most practical option! You can purchase an adult sized crate but be prepared to use the provided crate divider. We want your puppy to have enough room to lay down, turn around and stand up comfortably but not much more than that. For small breed puppies, a plastic/airline style crate is preferred. Crate size is still applicable, so as tempting as it may be do not purchase a Great Dane sized crate for your Chihuahua puppy.
Next up, your puppy's "clothes"!
Now, before you run out and get your puppy a dress, we are referring to their collar, harness and leashes (although a dress would also be adorable). This may be your puppy's first time wearing a collar so a thin, flat buckle option would be best. If your puppy is a bit older and potentially a "flight risk" a nylon martingale is preferred for outside of the house. For their harness, once they reach around 14 weeks of age, the E-Z Walk harness is recommended. Please note, the E-Z Walk harness may not be the best fit for Dachshund or Corgi puppies. Along with their collar, this may be the first time your puppy is going to be attached to a leash! We recommend selecting 2 of the lightest weight leashes that will work for your puppy. Aim for practicality over aesthetics for your puppy's first leashes. Those puppy teeth work fast!
It is also best to have some grooming items on hand to desensitize your puppy to them, even if you plan on sending them to a groomer or veterinarian for that service. These include a nail trimmer, puppy-safe shampoo, wipes, and a fur length appropriate brush. Everyone will have a more enjoyable experience if your puppy is already comfortable with those items.
Now for the fun section, toys!
As hard as it is, we are going to ask you walk past the aisles of fluffy, stuffed and rope toys. We do not recommend fluffy,stuffed or rope toys for young puppies as they encourage puppies to chew on other fluffy, stuffed or rope items in your home such as rugs, throw blankets, pillows etc. It can be tough for a puppy to learn what they are allowed to chew on, so we want to make it as easy as possible for them! We recommend toys like Kongs, Nylabones, antlers, or shin bones instead. Certainly less cute than the stuffed bears but your home decor will thank you! Aim to have 8-12 appropriate toys available for your puppy at all times, to help them make the right chewing choice.
Making the right choice when it comes to toys, may help lengthen the life span of your puppy's next item, their bed. When selecting a bed, no need to get a "puppy sized" option. Instead, aim for ease of washing (and ease of putting the bed back together after washing). A bed with bolstered sides will also be important later down the road when teaching your puppy "place".
Puppy Food
For your puppy's food, we would recommend keeping them on the same food they have been eating at the breeder or shelter for at least the first week they are home.
If you decide to transition them to another food after that point, follow your veterinarian's recommendations to decrease the risk of gastrointestinal upset. No one wants a puppy with an upset stomach! For your puppy's treats, plan to use your puppy's dry food most of the time. The exception to this rule is for potty training, you should have high value, soft treats reserved for pottying outside. Potty bags
The last item on this list, is a water bowl.
Your puppy's water bowl should be relatively small and easy to pick up and move around for potty training. We typically recommend holding off on purchasing a food bowl when your puppy first comes home. To assist with bonding, all family members in the house should spend time hand feeding your puppy's meals during the first couple of weeks.
Now that we have given you the "must have" items for your puppy, lets mention a few items you should skip –
Puppy pads while marketed to help with potty training, in most cases they delay progress. If you need an alternative to puppy pads, we would recommend grass or turf patches instead.
Rawhides, these chews are generally pieces of leather glued back together. That does not sound very appetizing and unfortunately your puppy can not digest those items either. This can lead to intestinal blockages and other complications.
Plush and rope toys. I know we have already mentioned it but just listing it as a reminder to skip those plush and rope toys for now.
You are now well on your way to setting your puppy up for success as soon as they come home!