As we're still experiencing triple-digit heat here in Houston, we want your dog to be equipped with the best dog life jacket for when you seek refuge by the water.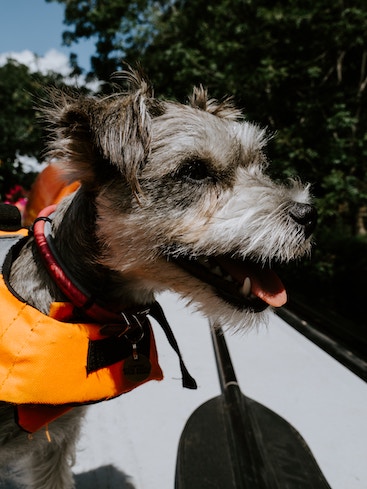 While we know some breeds are made for the water, such as Retrievers, Portuguese Water Dogs, and Spaniels, there are many other breeds that simply aren't the best swimmers. Brachycephalic breeds like the Pug, Bulldog, and Pekingese tend to struggle due to their flat faces. Barrel-chested breeds such as the Great Dane, Keeshond, and Mastiff, are at a natural disadvantage in the water too.
Regardless of breed, it's a great idea to invest in your dog's water safety by looking into a life jacket. Just like us humans, when we get tired even the best athletes can struggle. For that reason, having some basic obedience in place and a life jacket around open water can serve as a great safety tool and add additional peace of mind.
Currently, there aren't any standards or regulations in place for life jacket products for dogs. We understand that there is no "one size fits all" here since the safety and functionality of the jacket can heavily depend on your dog's shape, size, physical ability, and stamina. For that reason, it is important to consider multiple factors when choosing the best jacket for your dogs.
AKC Recommended Dog Life Jacket Qualities
A quality handle: Having a handle on the top of the life jacket will allow you to be able to grab the handle and assist your dog in case of an emergency. You can also use the handle as a tool to assist your dog in swimming when they are first learning. We suggest starting in a controlled environment such as a backyard pool.
D-ring: There needs to be a D-ring on the jacket so that you can easily attach a leash to your pup.
Visibility: Life jackets are going to come in a variety of colors and prints. It is important you pick a jacket that is nice and bright so you can easily see your dog. Having a jacket with a reflective strip is a bonus and highly recommended!
Understanding the difference and functionality between a life jacket and a life vest: These are actually two separate pieces of equipment and it's important to differentiate between the two when searching. A life jacket will cover more of your dog's body, providing more ability to see them and additional buoyancy. A jacket will be a safer option when in a public setting such as a lake or beach. Life vests on the other hand typically cover less body area, are a little more casual, and lighter in weight and coverage. A vest option may be okay for supervised pool time, however, if you are unsure, go for a jacket.
Top Three Dog Life Jackets
With all of the above in mind, we found three dog life jackets that were reviewed across a multitude of websites, vendors, and professionals in similar fields that had great reviews that our clients also love!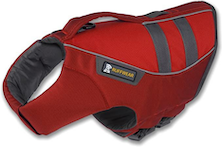 The Ruffwear jacket is one of the most highly reviewed dog life jackets out there and for a good reason. It is definitely on the higher price point of life jackets, coming in at around $89.99, however, with the safety features and overall quality of the jacket, we'd say it is well worth the investment.
This jacket particularly has foam panels on the side which are specifically designed to assist your dog in maintaining a more natural swimming posture, as well as additional sections underneath designed to add additional floatation assistance. The foam section around the neck has an adjustable and hidden strap which is adjustable to best fit your dog's neck size and comfortability.
We love that this vest takes pride in hiding the adjustable sections and straps to add additional safety so your dog has no opportunity to get wrapped up in anything while they are swimming. The vest comes in a multitude of colors, and styles, and also has a reflective trim.
This dog life jacket ranked high across multiple sites as well and is highly affordable at $19.99. This vest comes with dual safety handles, reflective piping, and quick-release buckles which will make this jacket a bit easier to take on and off. There are three different versions of the Outward Hound Dog Life Jacket, each having its own top feature unique to the jacket to fit your dog's needs most. We really love the addition of the neck float padding to the front under the head. It helps in increasing support to your dog's head, maintaining an upright and above-water position while they swim.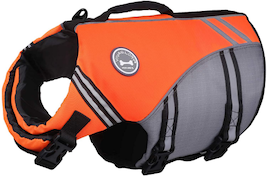 The Vivaglory Dog Sport Style Life Jacket is made with quality materials and is quite affordable at $29.99. Vivaglory offers 5 styles overall to best suit your dog's needs. The material is a ripstop cloth which improves durability. The buckles are more heavy-duty, however make fastening the jacket more comfortable for the dog, and can be done quickly.
This jacket also has high-visibility features such as bright color options and reflective trims. This style differs from other jackets in that it has the neck-float padding option similar to the jacket above. The neck option can assist in releasing neck pressure and support their head above water but it can be removed for stronger swimmers.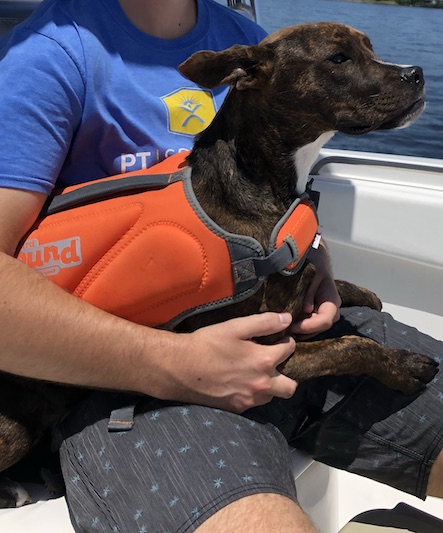 Whichever jacket you choose, it is important to properly measure your dog to ensure the jacket fits the company's recommended guidelines. Use a measuring tape and measure your dog's chest circumference, neck circumference, and back length, and know your dog's current weight.
Once you've found the perfect option, if you are looking for local spots to use your dog's new life jacket, we have a list of dog-friendly pools, lakes, and beaches for you to check out that our trainers love!
*This page contains affiliate links. If you choose to purchase after clicking a link, we may receive a commission at no extra cost to you.*