It's that time of year again, with so many festive toy options for your puppy! We love a good holiday-themed stuffed animal as much as the next pup; however, when picking holiday toys out for your puppy's stocking stuffer, we've got your training needs in mind!
In today's blog, one of our trainers is headed to TJ MAXX to show you a stocking stuffer haul on what to buy, what to skip this season, and why!
Chew toys
Buy: Durable tug toys, antlers, Kong toys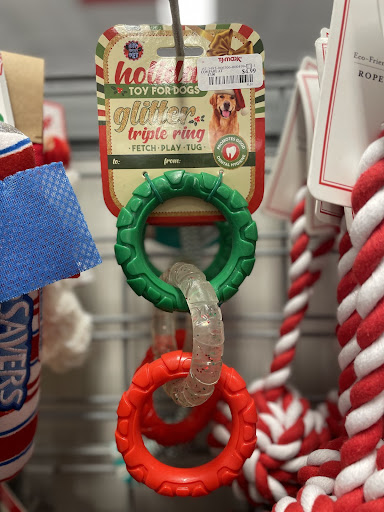 Look for durable toys that your puppy can chew on for long periods. At TJ MAXX, we found these great chain link durable rings. We also found a few Kong toys, a favorite of our trainers! We recommend picking up a few antlers and cow bones as well.
Skip: Rope toys, stuffed animals, and soft toys
Skip the rope toys and stuffed animals this season. When looking for a good chew toy for a puppy, you want to pick something durable that doesn't have any extra "pullable" pieces. Rope toys encourage tugging and ripping, which can translate to carpet tassels, shoe laces, and the like being pulled on. Puppies may also struggle with stuffed animals and being able to distinguish between their toys and a pillow or throw blanket as they feel identical.
If you love a toy too much to pass on, buy it and save it for next year or once your puppy is out of its destructive chewing phase. We recommend slowly introducing rope and stuffed toys once your puppy has gone one month without chewing any inappropriate household items in free access.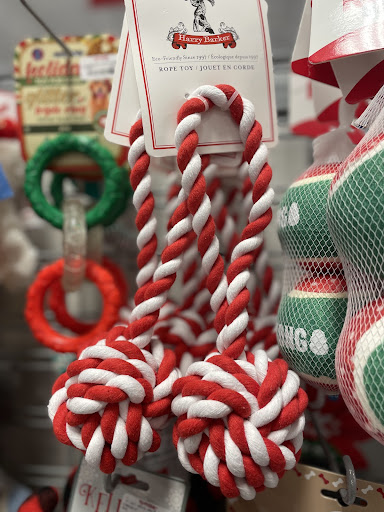 Balls
Buy/In moderation: Tennis balls, durable balls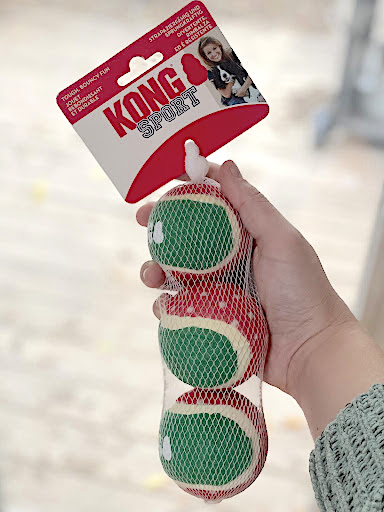 We LOVE tennis balls! They are a great way to stimulate your puppy mentally. Tennis balls can also be used as a reinforcer for obedience, such as come and down stay. We recommend keeping your tennis balls out of sight until you are ready to use them for three reasons:
Tennis balls are "valuable" for training or teaching fetch. Keep them valuable by not offering free access.
A puppy struggling with chewing may try to rip the soft material off the tennis ball, which may increase the likelihood of chewing with other soft textured objects in the home, such as the carpet.
Tennis balls may have a squeaker inside. Tennis balls can get worn down and have holes open up. Holes will pose a choking risk on the squeaker for your puppy.
Durable balls
Silicone balls or the like are great to offer your puppy during the day. The rolling aspect makes them extra fun to play with. Just be sure the ball you are offering is large enough, so there is no risk of accidentally trying to swallow it and getting blocked in their airway. We recommend investing in toys that your puppy will grow into. That way, you don't have to buy the next size up later.
Treats
Buy: Training Treats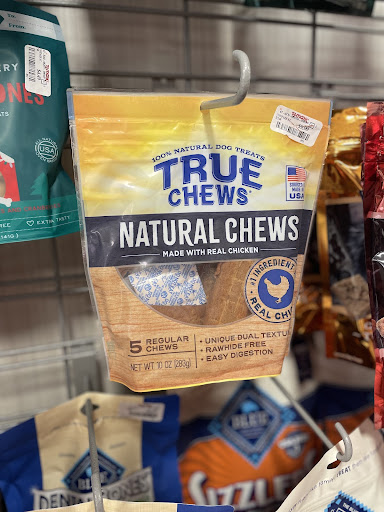 It's always nice to have a few bagged training treats on hand. You can store the baggie in the car as an "extra" grab bag, just in case you forget your training pouch at home. Or you can place those treats into a jar up on the countertop for easy access in the home. We found a mini bag of True Chews which our trainers use regularly, made in the USA.
"Just Because" Treats:
We found Natural 100% Sweet Potato Chews. A great and healthier alternative to a Rawhide that gives a little more chew action!
In Moderation/skip: Gourmet Cookies
Before purchasing "gourmet" cookies, glance at the back of the packaging to see what ingredients are included. If there are a lot of words you don't recognize, you may pass on them, or only give in moderation. Puppies tend to have sensitive stomachs. One holiday-themed cookie here and there should be fine, depending on your puppy's tolerance. You can also look up the brand to see if they are locally sourced, or are made by a large processing company. The ones we found had a lot of unrecognizable additives and food coloring.
Skip: Rawhides
Rawhides or large chew bones that have pieces that are edible and can break apart easily can be a safety concern for your puppy. Rawhides, in general, are difficult to digest, especially for puppies. They also tend to break off once chewed on for a period of time, which poses a choking risk. We recommend sticking to hard chew bones such as antlers and cow bones at all times, even for adult dogs!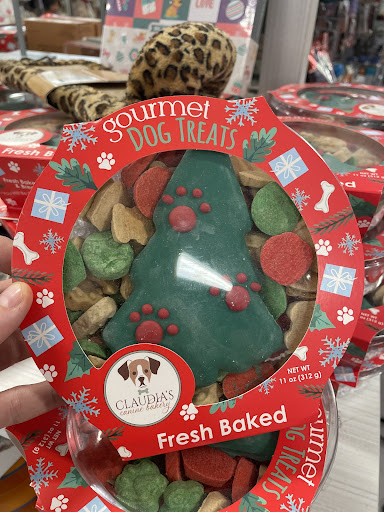 Feeders
Buy: Stainless steel bowl, Kong, or puzzle toys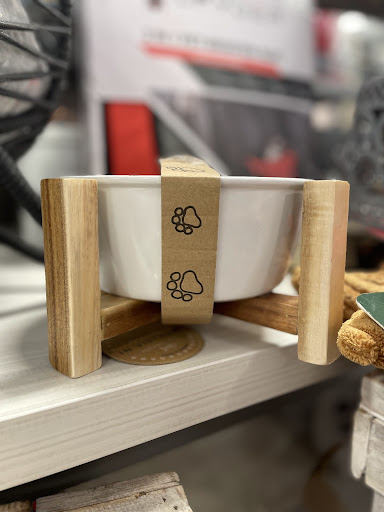 Stainless Steel Bowl
Stick with stainless steel or something similar. If you use a plastic bowl such as a slow feeder, pick up the bowl as soon as your puppy finishes eating, so they don't have the opportunity to chew on it.
Kong or Puzzle Toy
There are various ways to feed your puppy, a trainer favorite being the Kong. The kong is durable, suitable for mental stimulation, and comes in multiple shapes and sizes to fit your dog's needs. You can stuff them with your puppy's kibble, a favorite treat, or paste; they are dishwasher-safe. Although the kong comes in many colors, you can't go wrong with the classic red kong in the season's spirit! There are also so many puzzle toy options out there that we know would keep your puppy busy for meal time.
Skip: Holiday glass bowls
Although these are so festive, and we love how they look, they pose a safety risk. Your puppy could chip a tooth, a piece of the bowl could chip off, and your puppy could ingest it, or they could shatter the bowl completely.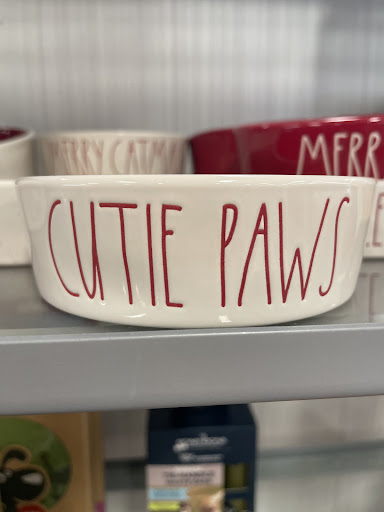 Cozy and Miscellaneous Gifts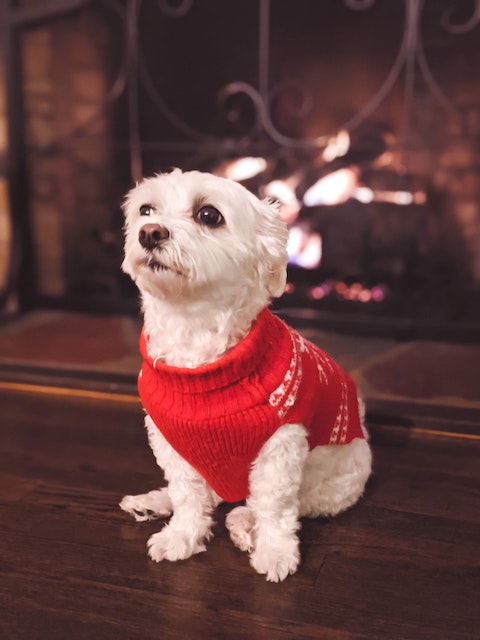 Holiday Dog Sweater
We found an entire row of holiday sweaters in all shapes and sizes! Sweaters or pajamas can be a great gift and perfect for matching with your puppy. If your puppy is a chewer, you may buy a size up and wait until next year once they've passed the chewing phase. Otherwise, we recommend taking any clothing, such as sweaters or booties, off when unsupervised. Our trainer picked up a pair of matching flannels for herself and her dog from Target.
Holiday Waste Bag
This gift probably doesn't need an explanation. Practical and festive, a definite must-have!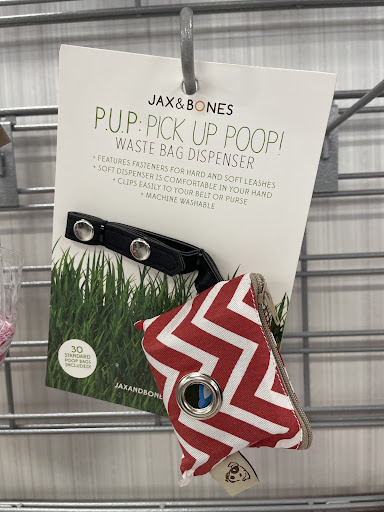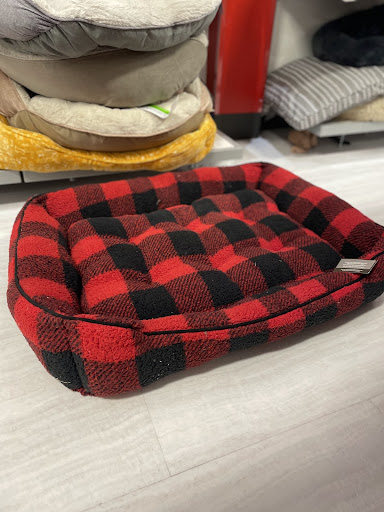 Seasonal Dog Bed
If you like home decor for the holidays, adding a seasonal dog bed can be a great way to change the feel of your space. Plus, an excellent opportunity to practice the place command.
Holiday Collar
To get into the holiday spirit early, we hopped over to Petsmart on the way back home to grab one of Petsmart's holiday collars! From plaid, bows, and sparkles, they have many holiday-inspired collars! Our trainer picked up a Merry & Bright Pink Candy Cane Collar for her sweet pup Rosie as seen here. Find Rosie's family (human and pet) matching pajamas from Target here.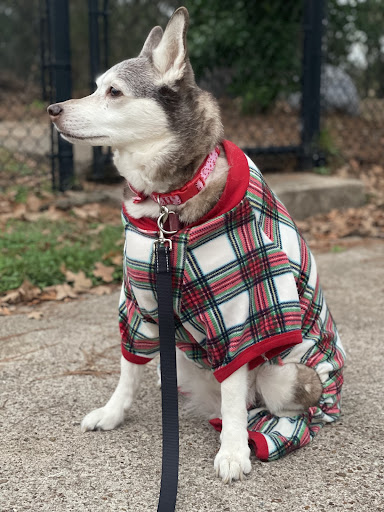 If you are looking for more gift ideas for your puppy, both big and small, head over to our curated puppy supply list! Happy Pawlidays from our family to yours.