Summertime is here in Kansas City! We've rounded up 5 tasty treat recipes to help your pup cool off this summer! Check out the recipe details for each treat by clicking the links provided. On each treat's main page you will find thorough instructions and ingredient information if you're interested!
Let's talk safety first folks! When feeding your pup something other than their kibble, we recommend consulting with your veterinarian beforehand. For some dogs, dairy products can be difficult to digest and can result in vomiting, diarrhea, and abdominal discomfort. If your dog doesn't tolerate dairy well, there are alternatives like coconut milk or meat broth (no-salt-added!) to substitute. Additionally, always read the food label (peanut butter, plain yogurt, etc.) carefully to look for xylitol or any other harmful ingredients. Xylitol is a type of sweetener and is TOXIC to dogs. Last but not least, if you opt for a pupsicle, avoid using popsicle sticks as these can be a choking hazard.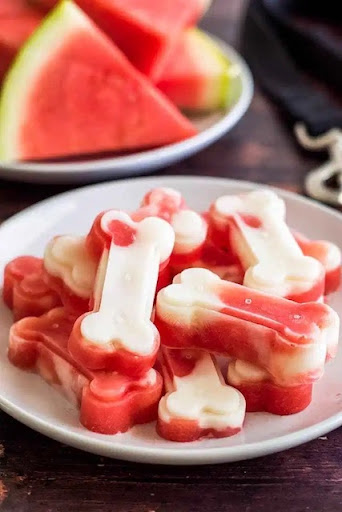 Watermelon Dog Treats
Supplies:
Blender or food processor
Silicone treat molds (large) or ice cube tray or mini-muffin pan
Air tight container
We also like these silicone molds!
Ingredients:
2 cups chopped seedless watermelon
15 tablespoons (just under 1 cup) plain, unsweetened yogurt (NO Xylitol)
Instructions:
First, add 1 tablespoon of yogurt to each department of the silicone mold or try of your choosing. Next, puree a few watermelon chunks until smooth, and then fill the rest of the molds with the puree. Freeze until solid. Once done, move the treats from the mold to an air-tight container or bag, and keep in the freezer until you are ready to use them!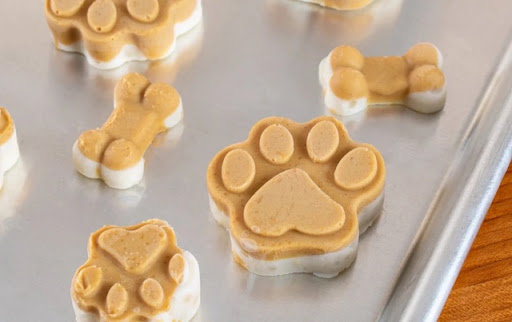 Frozen Peanut Butter Treats
Supplies:
Ingredients:
1 cup of cottage cheese
1 cup of peanut butter
1 teaspoon of honey
Instructions:
Start by blending all of the ingredients (cottage cheese, peanut butter, and honey) together. When smooth, pour into the silicone mold and freeze overnight. Take out of the molds and place them into an air tight container or baggie so they are easy to grab when you are ready to use them.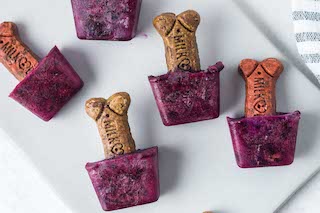 Blueberry Dog Pupcicles
Supplies:
Blender
Ice cube tray
Freezer-safe ziploc bags
Ingredients:
1½ cups blueberries
2/3 cup lite coconut milk (no xylitol)
14 Milk Bone dog treats
Instructions:
Combine the blueberries and coconut milk into a blender until a smoothie like consistency is reached. Pour the mixture into an empty ice cube tray until ¾ of the way full. Then, add a dog treat to each space and place into the freezer until solid. When done, remove the treats from the tray and place them into an airtight container or baggie. These should last you up to 4 months!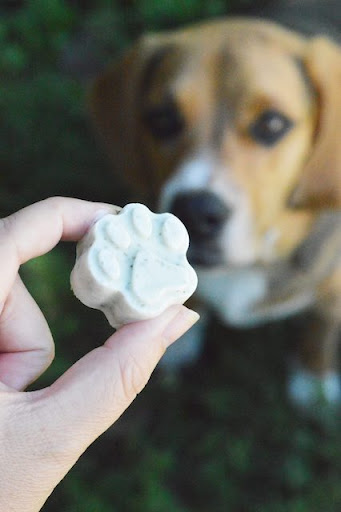 Minty Fresh Frozen Dog Treats
Supplies:
Food processor or blender
Silicone tray
Ingredients:
5 ounces plain greek yogurt
¼ cup fresh mint
¼ cup honey
Instructions
Take all of the listed ingredients and blend thoroughly. Using a silicone tray, take the mixture and fill the spaces in the mold about ¾ full. Place into the freezer until completely frozen, and then when ready, place the treats into a freeze safe container so you can easily reach for one when you're on the go with your dog.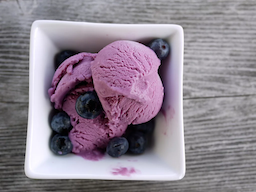 Blueberry Crumble Ice Cream
Supplies:
Blender
Serving tray of choice (ice cube tray, silicone molds, etc.)
Ingredients:
1 15oz. can of unsweetened pumpkin puree
1 banana
1 cup plain yogurt
½ cup blueberries
¼ cup oats
Instructions:
Blend all of the listed ingredients together, and once creamy, spoon the mixture into your mold or tray of choice. For extra fun, you can add a pretzel, dog bone treat, carrot, or piece of celery as a "popsicle" stick before you freeze it. When ready, place into an airtight container for later use!
We'd love to see your pup enjoying these recipes or any others that they've come to love to beat the summer heat. Tag us @beyondthedogkansascity on instagram!