Thanksgiving time leads to a rise in vet visits due to people mistakenly feeding unsafe food to their dogs. This year, we want your dog to have a dog-safe Thanksgiving and ensure you only feed your dog foods that are safe for dogs.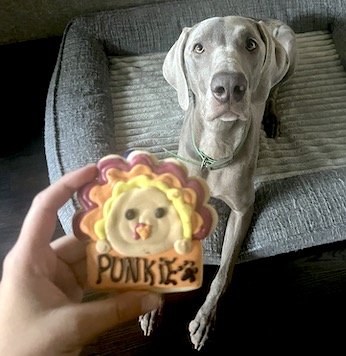 When thinking about which foods are safe for your dog on Thanksgiving, stick to unseasoned, plain fruits, vegetables, and meats (NOT bones). Of course, there are some exceptions to this like don't feed your dog grapes, raisins, onions, garlic, or scallions. But for the most part, if you are sticking to these food groups without any added sugar, xylitol, butter, or alcohol, you should be in the clear.
Here is how to create a Thanksgiving feast for your dog while using ingredients you already have for your own human feast!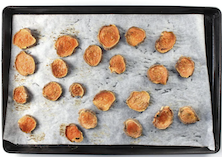 Sweet potatoes are a great, healthy food option for dogs! With a high fiber content, they support a healthy digestive system and also contain essential vitamins like B6, C, and A.
DO NOT feed your dog sweet potatoes with added ingredients (butter, sugar, etc.) as that could make them sick.
Your dog will love these sweet potato chews and you will love how easy they are to make! Plus they last up to three weeks.
Preheat your oven to 250F
Slice a sweet potato into ½ inch thick coins. Make them however big makes the most sense for the size of your dog.
Place on parchment paper on a baking sheet and bake for 2 ½ to 3 hours flipping them halfway through baking. Take them out when they look shrunken and dried out. Let cool.
Store in an airtight container for up to three weeks!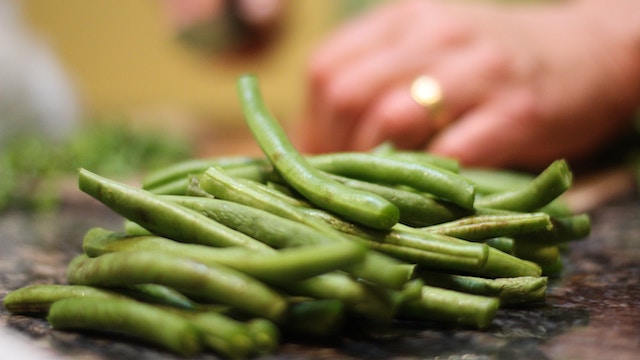 Main Dish: Turkey and Green Beans
No recipe is needed for this one! Cooked plain turkey meat and green beans are perfectly safe foods for dogs. Avoid feeding your dog turkey skin or bones, as tempting as that might be, as they can cause digestive issues. Everyone always wants to give a dog a bone but if you want to avoid the hospital this Thanksgiving, stick to plain, boneless meat!
Plain green beans are a great low-calorie food for dogs and contain nutrients such as protein, iron, calcium, and vitamins A, C, and K, and are packed full of fiber.
Turkey is a very common protein found in most brands of dog food. It is a great source of protein and many dogs go crazy for the delicious taste and smell. Again, leave out the turkey skin and bones.
You can combine unseasoned turkey and green beans together in your dog's bowl for a delicious Thanksgiving main course, just make sure there's no added butter, oil, or spices.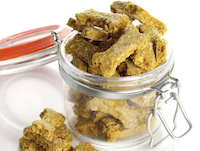 SKIP the pumpkin pie when it comes to your dog and make these pumpkin treats instead! Pumpkin is a great source of vitamins like A, C, and E, as well as minerals like iron and potassium. It can also aid with digestion due to its high soluble fiber content.
Preheat your oven to 300F and line a baking sheet with parchment paper.
Grind 1 cup of oats into a fine powder with a food processor.
Add ⅓ cup of pure pumpkin and ¼ cup of natural peanut butter (no xylitol). Mix until it forms a sticky dough.
Remove the dough and place onto a lightly floured surface. Cut out cookies with whatever type of cookie cutter you have or just use a knife.
Place onto the parchment paper and bake for 25-30 minutes or until dry and hard.
Let cool. Store for up to two weeks in the fridge, or you can freeze them.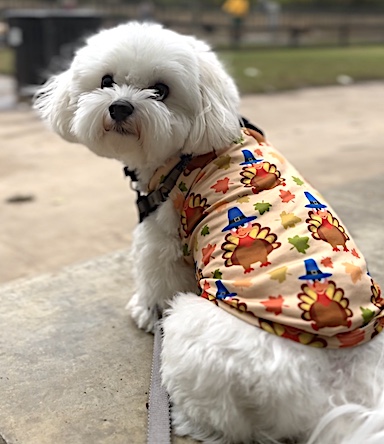 Alternatively, if you don't have the time to spare for these treats, you can simply give your dog canned pumpkin and some natural peanut butter! Just make sure nothing like xylitol, sugar, or butter is added. 
We hope you and your dog have a wonderful Thanksgiving feast! We are so thankful for all of our Kansas City clients and couldn't be where we are today without all of you.
Happy Holidays from all of us at Beyond the Dog!