Holidays mean a lot of different things to people and one big commonality is food. Food can bring people together and provide a lot of nostalgia, particularly with the holiday classics. If you are like us and want to spoil your dog with holiday leftovers but don't want to encourage bad habits like begging at the table or counter surfing, here are a few recipes that were tried and approved by Beyond the Dog, LLC boarding dogs!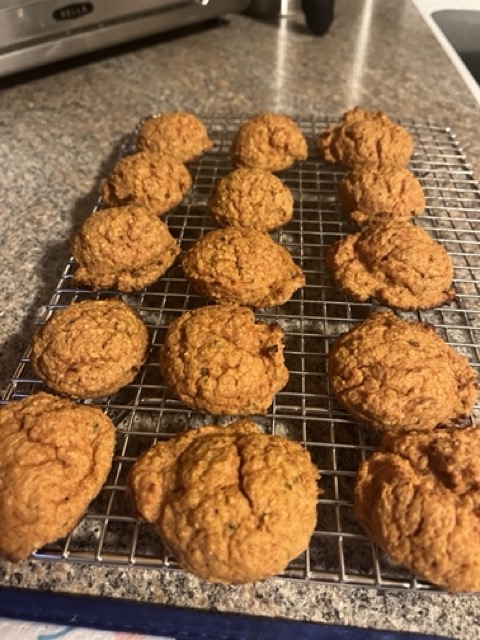 Turkey Meatballs
Ingredients
1 lb. of leftover unseasoned turkey with bones and skin removed (and no gravy on it)
½ cup rolled oats
2 eggs
2 tbsp plain greek yogurt
1 cup mixed veggies (carrots, peas, and/or green beans)
¼ cup fresh parsley
Instructions
Preheat oven to 400 degrees. Place the turkey into a food processor to break down the meat. Add the rolled oats to the food processor and run until blended. We want to make sure there are no large chunks of turkey meat. Add the eggs and yogurt and blend until mixture begins to hold together. Spoon mixture into a large bowl and add veggies and parsley. (I also blended the veggies a little to break them down, but you don't need to do that.) Roll into small meatballs and place on parchment-lined baking sheet. Bake for approximately 20 minutes until the edges start to turn golden. These treats do need to be stored in the refrigerator or freezer.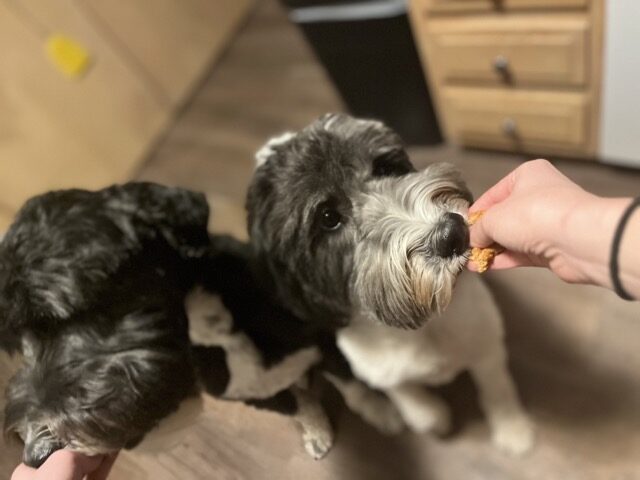 SnickerDoodles
If you are still feeling festive after making human cookies, you should try your hand at some Dog Snickerdoodles! We had a few "doodles" boarding with us during the creation of these treats, so I absolutely had to make some "Doodle SnickerDoodles." This recipe was taken from Bubba Rose's Organic Dog Biscuit Cookbook (p. 120).
Ingredients
1½ cups oat flour (I used the food processor to make my own flour out of the rolled oats from the recipe above.)
1½ cups brown rice flour
2 teaspoons ground cinnamon
¼ cup honey
1 egg
1 teaspoon vanilla extract
½ cup water
Instructions
In a medium bowl, whisk together the oat flour, brown rice flour, and cinnamon. Add the honey, egg, and vanilla extract and stir until well blended. Add ¼ cup water and mix with a fork. Continue to add more water, 1 tablespoon at a time, until the ingredients start to come together. Then use your hands to lightly knead the dough in the bowl until it forms a ball. Preheat oven to 375 degrees with the rack in the center position. On a lightly floured work surface, roll out the dough until it's between ¼" and ⅛" thick. Cut out biscuits with a cutter; I actually just hand-shaped mine into circles. Place the cutouts on a baking sheet. Bake biscuits until they are golden and lightly brown around the edges, about 12 minutes (longer for larger biscuits). Allow biscuits to cool on the baking sheet; they will harden as they cool. Store the biscuits in an airtight container at room temperature.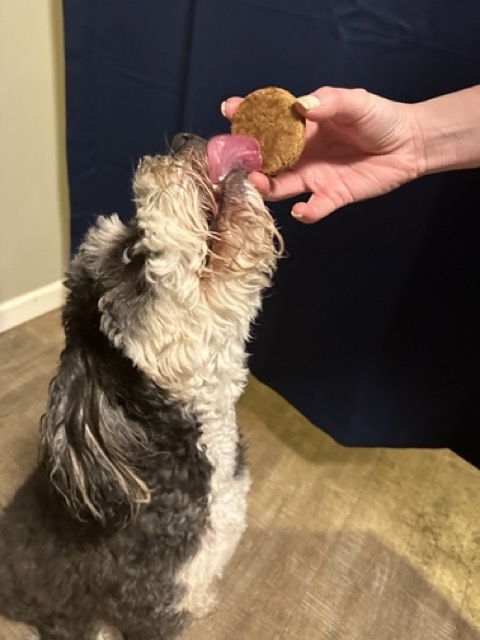 PLEASE NOTE: Cinnamon and vanilla extract are safe for dogs in small quantities. We do not recommend overusing either ingredient (even if they smell SO good) to ensure that these snacks remain a safe treat for your pup. We also want to note that these are *treats* and not a substitute for full meals, which will keep everyone happy and healthy!
New Year Star Cookies
And lastly, we love to ring in the New Year with a dog-friendly treat (with icing) for our furry friends! If you REALLY want to go festive, you can use wine bottle or champagne flute cookie cutters – although we opted for a star cookie cutter.
Ingredients
1 cup peanut butter
1 cup skim milk
1 tbsp baking powder
2 cups Wheat Flour
Icing Ingredients:
4 ounces of cream cheese, room temp
2 tbsp vegetable oil
1 tsp vanilla
1/2 tsp honey
Ingredients
Preheat the oven to 375 degrees. Line a baking sheet with parchment paper. Add the peanut butter to the milk. Whisk together the baking powder and flour in a bowl. Gradually add the dry ingredients to the wet ingredients. Mix all ingredients together until well blended. Cover the countertop with parchment paper. Sprinkle some wheat flour on the parchment paper-lined countertop. Roll the dough onto the lined countertop. With the cookie cutters cut out dog treats. Put the cookies on the lined baking sheet. Bake at 375 degrees for 15-20 minutes. Allow them to cool on the baking sheet for about 10 minutes.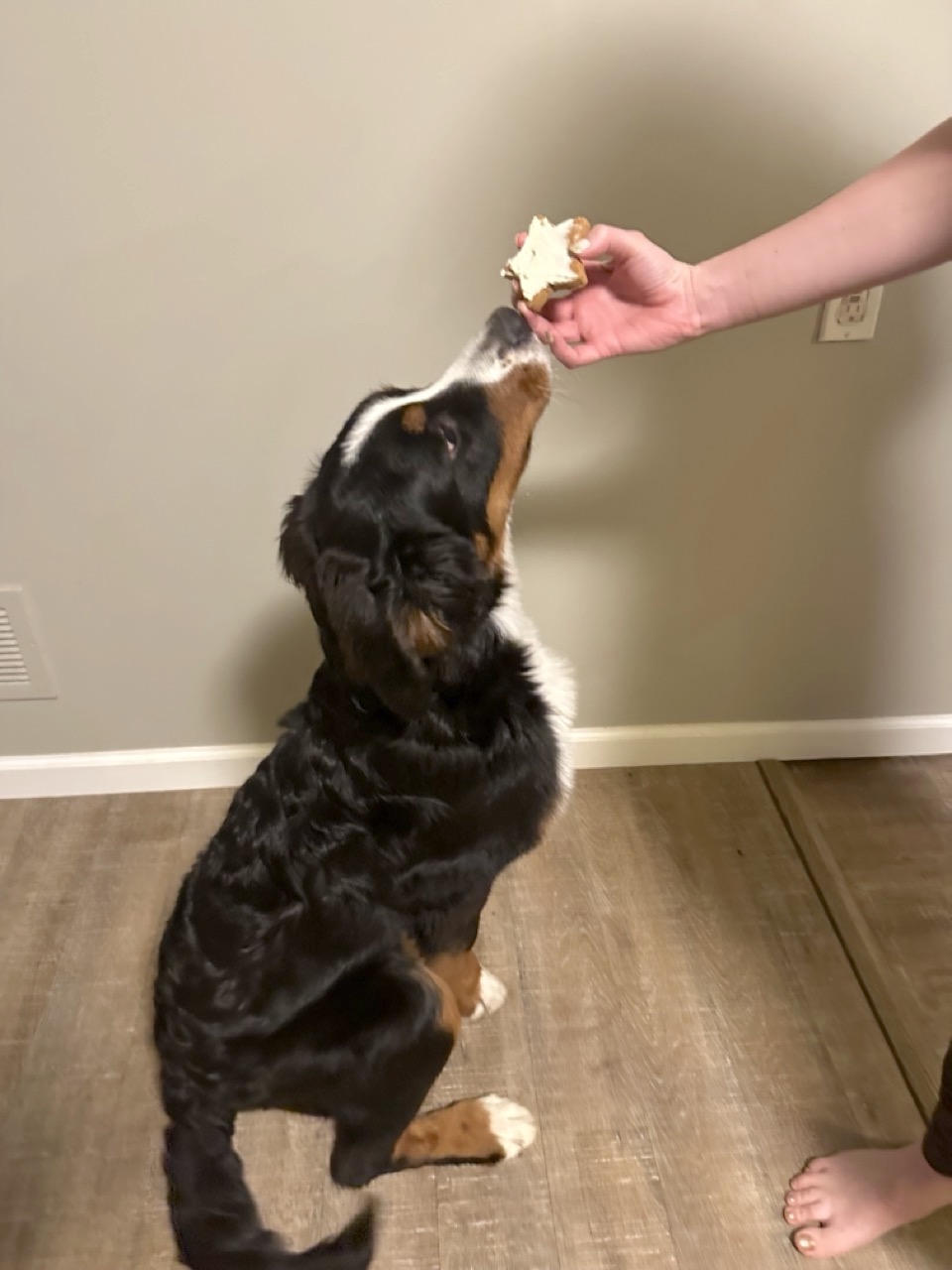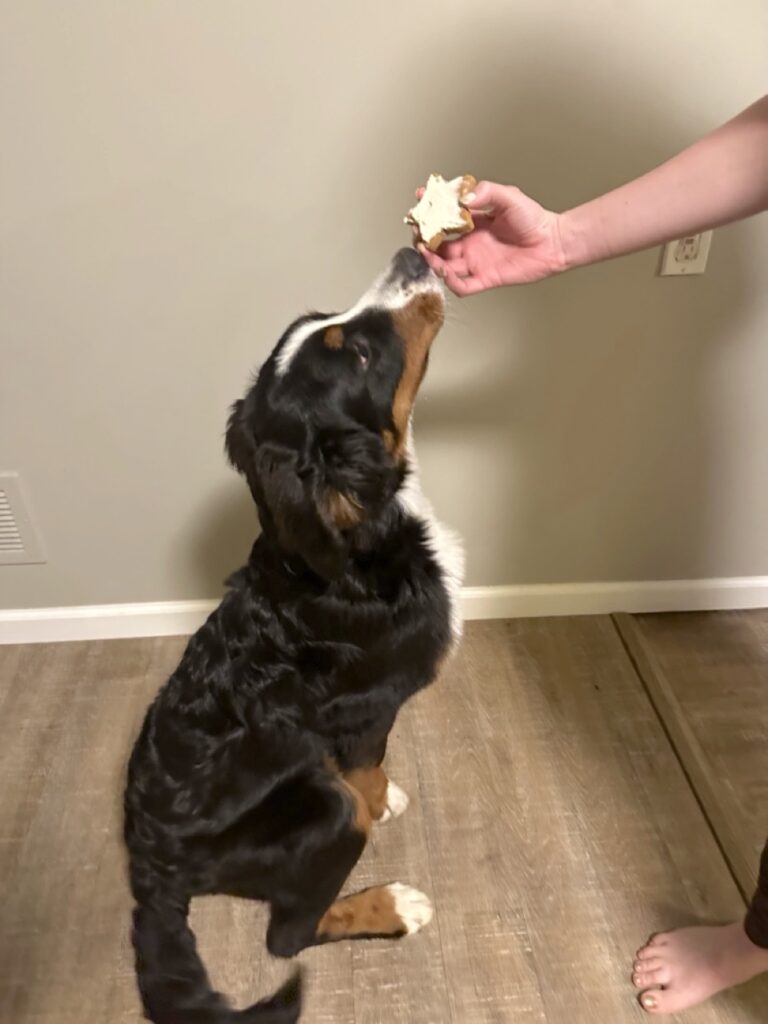 Check out our infographic on safe foods for your dog to get some of your own ideas on how to use those leftovers – and create some new treats – wisely. Let us know what kinds of goodies you make for your own pets this holiday season and tag us @beyondthedogkansascity! Happy 2023!