As part of their Mutts & Merlot weekends, KC Wine Co. is hosting an upcoming dog-friendly weekend at the vineyard! Dogs are allowed on leash; you can explore the farm and partake in live music, food trucks, festival foods, and of course – wine! This is a great opportunity to spend quality time with your dog and embrace the Fall season. Dogs must be friendly and picked up after. Owners must be 21 or older. Howl-o-ween weekend is a free event that we highly recommend as an opportunity to socialize and/or practice good manners and obedience!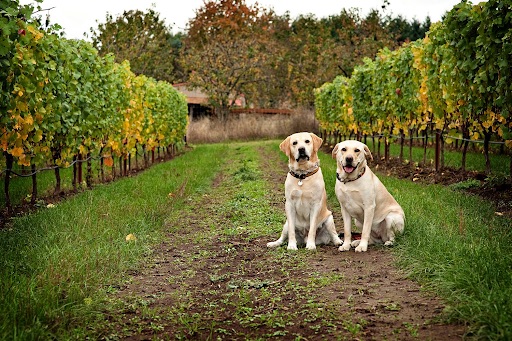 Event details
Hard cider, wine, wine slushies, and vine coolers are available for purchase at KC Wine Co.'s Barrel Room. Howl-o-ween weekend takes place from Friday, October 28 to Sunday, October 30, 2022. The times are as follows:
Friday, October 28, 4-8 PM
Saturday, October 29, 12-6 PM
Sunday, October 30. 12-6 PM
KC Wine Co. is located at 13875 South Gardner Road, Olathe, KS, 66061.
Socialization opportunities
Socialization is important for both young puppies and mature dogs. For puppies 8-12 weeks of age, it is the most critical time of their life to socialize. We recommend your puppy meet 20-50 new people and 20-50 new dogs and explore 1-3 new environments each week in this Sensitive Period. Events like Howl-o-ween are great opportunities because the traffic of people and dogs shouldn't be overwhelming and the dogs present at the vineyard are highly likely to be friendly and vaccinated. It's great for mature dogs too, especially if they tend to be a little more reserved when meeting new people or dogs. Bring a small bag of their food and yummy treats and give them a few pieces, one at a time, whenever they meet a new person or new dog, smell or hear something new, or greet someone politely. We aim to reward walking up to someone without pulling, sitting instead of jumping, keeping pawing to a minimum, and making sure it's gentle, and no biting or mounting. If your pup struggles with these manners, it's a great stepping stone to accomplish these goals before moving on to obedience! 
Obedience training practice in a new environment
Local, dog-friendly events are wonderful opportunities to generalize or freshen up your dog's obedience training. If you are confident in your dog's manners and ready for the next step, we recommend working on moderate-level obedience. This entails familiar commands for a short period of time but is asked in a more distracting environment (the vineyard). Make sure you bring your dog's food and favorite treats to reward them for their success!
Name Recognition
Always a great place to start! It's important that your dog attends to their name, especially in public places. When your puppy or dog is looking away, say their name one time. Do not repeat it. When they look at you, mark the action by saying "good" and follow it up with a piece of food or a treat. It's okay if it takes them a few seconds to make eye contact with you. If you say their name one time and they do not look, try making a clicking or kissing noise. They still earn a reward for looking at you after you do this!
Sit
Begin by finding a place to practice 20-30 ft away from other people or dogs. Say, "(your dog's name), sit." With any command or saying their name, it's important to only say it one time. If they do not sit 3-5 seconds after you say their name, present your hand in front of their nose and slowly move it up and over their head. As soon as their bottom touches the ground, whether you used a hand signal or not, say "good" and reward them with a treat. 
Leash Walking
While exploring the rolling hills and vineyards, there's no better time to work on loose leash walking with your dog! We typically recommend your dog heel on your left side with their head not crossing the front of your leg. To do this, start with a handful of treats in your left hand and hold the leash loosely across your body with your right hand. While your dog is on your left side, begin walking slowly. Every few seconds they remain in position, say "good" and feed them. Continue to do this as long as your dog is not walking ahead or lagging behind. If they do, lure them back into the correct position with a treat. The more comfortable you feel, the sooner you can transition to holding the leash in both hands and only occasionally having to reach over to feed your dog. You'll be multi-tasking in no time; practice makes perfect!
Have fun and, as always, drink responsibly!