There are a number of pet-friendly hotels in the area to explore, especially if you are looking for a mini getaway and want to take in the sights of Kansas City. Although it can be great to explore new locations with just human companions, sometimes it's hard to leave your pup at home. Fortunately, Kansas City in general is VERY accommodating for dogs, and having pet-friendly hotels in the heart of the hustle and bustle of the city is no exception.
21c Museum Hotel Kansas City
The 21c Museum Hotel offers pet-friendly accommodations while also providing numerous galleries to explore inside the hotel!  The museum itself is open to the public and the rooms for guests include original artwork as well as high ceilings and contemporary furnishings. The 21c Museum was also named one of the Top 20 Hotels in the USA/Midwest by the 2020 Condé Nast Traveler's Readers' Choice Awards. Granted, dogs are not allowed in the galleries themselves, but this hotel is within walking distance from other areas in Kansas City that are appropriate for pets. 
Crossroads Hotel
The Crossroads Hotel also allows pets and is near a number of bars and restaurants in the area. It is less than a mile from the T-Mobile Center and is a 5-minute drive to Crown Center. There are also several bars and restaurants in the hotel, providing you with plenty of options with and without your four-legged family member.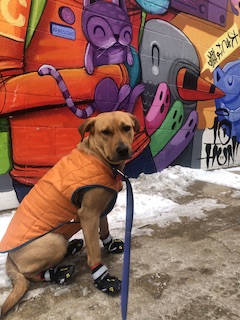 Hotel Indigo – Crossroads
The Hotel Indigo – Crossroads is a historically certified hotel featuring specially commissioned art due to its history of being the former home of the Kansas City Costume Company. The 81 guest rooms of this historically certified, former home of the KC Costume Company, are embellished by custom fabric headboards and specially commissioned art — including a framed paintbrush! The paintbrush is a nod to Jim Leedy who in 1985 opened the first gallery in the Crossroads in what was once a paintbrush factory.
Hampton Inn & Suites Kansas City Downtown Crossroads
The Hampton Inn & Suites Kansas City Downtown Crossroads Hampton KCDC is located between the Crossroads Arts District and the Power & Light Entertainment District. The hotel is near the KC Convention Center and a street car stop away from hundreds of shops and restaurants, covering two miles and three distinct neighboring districts. There are always plenty of dogs and dog-friendly activities near the trolley trail! Directly from their website, "the Hampton KCDC features the first full-retail Starbucks in any Hampton worldwide, free hot breakfast, complimentary high-speed wireless internet, digital key for mobile check-in, rooms with balconies overlooking Kansas City, valet parking, and a RideKC Streetcar stop directly outside."
Loews Kansas City Hotel
According to the website, the Loews Kansas City Hotel is home to 800 guestrooms and suites, The Stilwell restaurant, a lively lobby bar, Bar Stilwell, Horsefeather Social, open seasonally, indoor lap pool, and 60,000 square feet of meeting and event space, which connects directly to the Kansas City Convention Center by a connector bridge. The hotel is also within walking distance of key attractions and other destination landmarks like the Kansas City Power & Light District, T-Mobile Center, KC Streetcar, and the Kauffman Center for the Performing Arts. This hotel and the accompanying restaurants are very much local favorites! 
For more information on pet-friendly activities, you can see our blogs or VisitKC on their webpage dedicated to pets! We hope to see you and your furry companions in Kansas City!