Do you love Royals' baseball and wish you could watch the game and bring your dog with you too? Now you can! The Kansas City Royals' "Bark at the Park" has kicked off for the 2023 season, and we've got you covered. Your puppy, as long as they are 6 months and older, is allowed in Kaufman Stadium. This is a great way to socialize your dog, whether they are a young puppy needing to meet people and dogs, or an older dog who may be timid and needs practice greeting others! Depending on the breed of your puppy, their socialization quota may be anywhere from meeting 20-50 new people and new dogs each week. You can knock that out for the week in one night at the Stadium!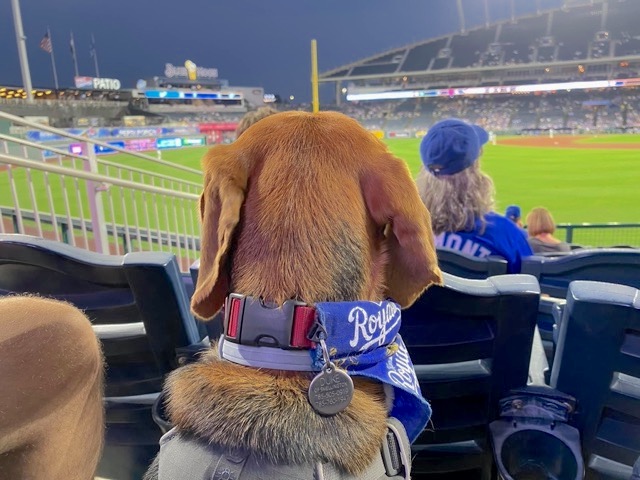 Here are the current dates for Bark at the Park for the 2023 season:
Tuesday, May 9th – Royals PupLid Dog Cap
Tuesday, September 5th – Pasquatch Plush Dog Toy
Tuesday, September 19th – Brisketacho Plush Dog Toy
For more information on the scheduled games, the KC Royals website has all the details and tickets to purchase directly. Each purchased game package ($60) includes one dog and one human ticket, a Royals-themed dog gift, and a donation to a local participating shelter! Make sure to enter through Gate A before the 2nd inning to pick up your doggy item!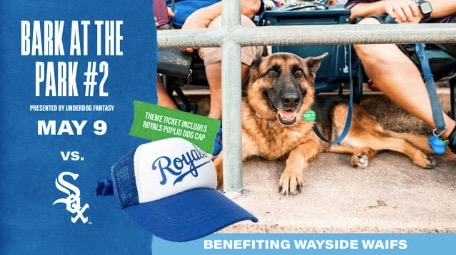 "Bark" on the Royals together with your pup this summer! Go Royals!