We love a cute photo op with our pups! Austin's "keep it weird" murals are all over the city. You can find bright flowing colors on the sides of some on-ramps in south Austin, and next to restaurants and buildings throughout the city. There are so many cool decorated nooks and walls that it's easy to find a few adventuring around the streets, and even stop for a delicious brunch or coffee on the way!
I Love You So Much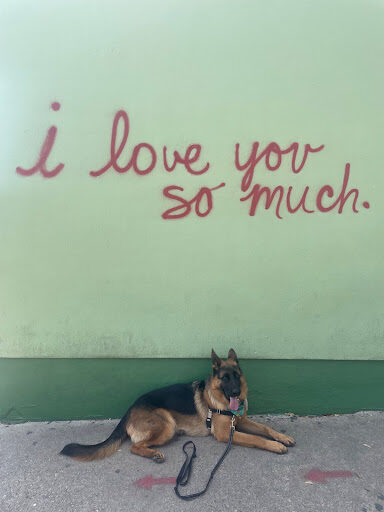 One of our favorite Austin murals is the "I love you so much," painted on the side of Jo's Coffee on South Congress (SoCo) and James St. We love all of the dog-friendly stores located on SoCo (check out our "Top Dog-Friendly Stores in ATX" post!) and this mural is a great ending spot after walking down the bustling and vibrant street. You can stop for amazing brioche doughnuts and a cinnamon cereal milk latte at The Salty, sit outside with your friends and your pup for brunch at The Magnolia Cafe or June's, get lunch at Cafe No Se or grab a slice at Home Slice before making your way through the shops and stores of SoCo. Be sure to grab an iced coffee or matcha at Jo's (and a dog treat!) after you have your photo op.
You're the Yee to My Haw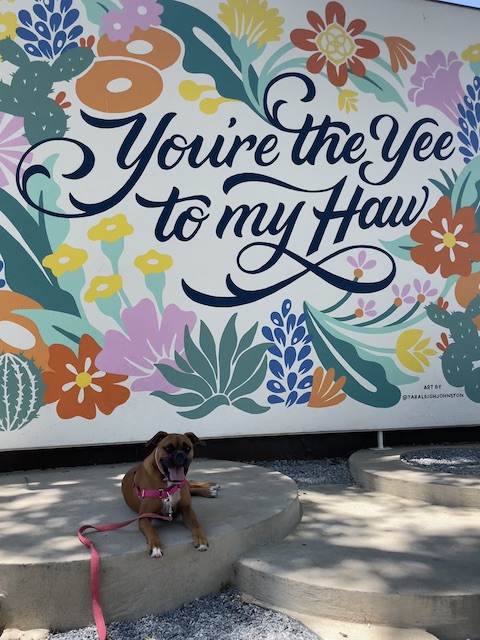 There's another cute floral mural that says "You're the Yee to my Haw" painted on the side of the Kendra Scott flagship store on South Congress and E Milton Street. It may not be as popular as the "I Love You So Much" mural down the street, so there's a good chance you won't have to wait behind other eager photographers.
Another beautiful mural in South Austin is the "Greetings from Austin" mural located on S. 1st St. and W. Annie St. There are many restaurants spanning 1st St like the delicious Vietnamese Cafe, Elizabeth Street Cafe, and Gourdough's Big Fat Doughnuts trailer which may have the most ridiculous and delicious doughnuts ever created. There are also cafes and tiny lunch spots you can stop in, or you can even pop over to this mural after hitting SoCo.
You Belong Among the Wildflowers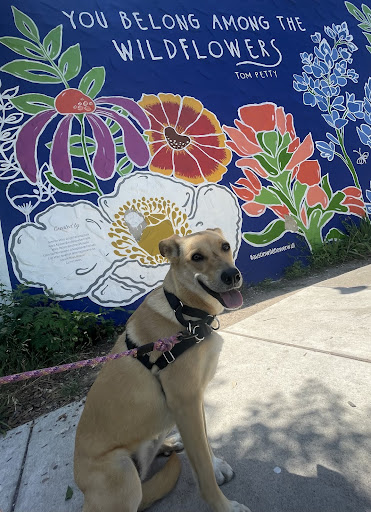 Directly across the street is the "You belong among the wildflowers" mural, beautifully decorated with giant bluebells, and red Indian paintbrushes; some of Texas' most popular wildflowers. This bright blue mural is a sweet place to take a pic of you and your dog even when the wildflowers are no longer in bloom.
You're My Butter Half
The "You're My Butter Half" mural located on E Martin Luther King Drive Blvd. and Alamo St. is in a more quiet neighborhood in East Austin. While it was changed by someone to say something a little different earlier this year, it has been changed back to its original message. This is a great place to grab a photo of you and your best furry friend or one of just your pup to send to his favorite humans (his fur grandma would probably love it!). You can stop for juices at Juiceland or for a quick coffee at Bennu Coffee before exploring more of East Austin.
Tau Ceti Art Installation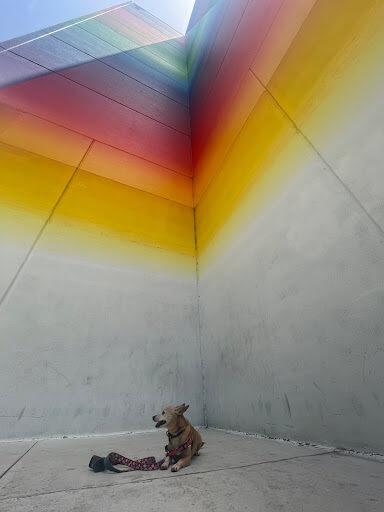 Tau Ceti, Austin's tallest art installation is located in downtown Austin at the corner of Brazos St. and E. 2nd St. This amazing and colorful mural is definitely an eye-catcher and if you're looking to spice up your Instagram (or your dog's Insta), this will definitely do it. Try a few different lower angles to get an edgy pic of your dog with the colors reaching up into the sky behind him or try a shot with you both further away to get as much for the mural in the background as possible. Then pop over to Vera Cruz Tacos because you definitely worked up an artistic appetite or walk along the river or over the bridge for some beautiful views of the city and the water.
Before I die…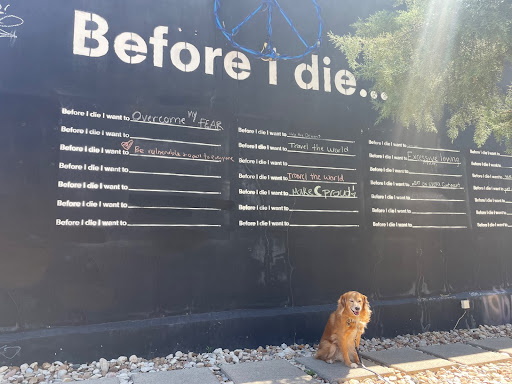 The interactive mural, "Before I Die" garage wall, can be found on Elizabeth St. between Breckenridge and Nickerson. The blank spaces have been filled in with chalk answers like "travel the world" and "overcome my fear" but I've also seen "meet 2pac" and "have good grades." It's cleaned off every once in a while so it's always fun to check out the new chalk additions. It's a great place to see fellow Austinites' wishes and dreams and snap a quick pic of your dog thinking about what he might want.
If you're looking for a quirkier mural the "Jeremiah the Innocent" mural whose black and white toad/alien asks passersby "Hi How Are You," is located in West Austin on W. 21st St. and Guadalupe St. He also has a friend with large red lips asking locals "How you doin" next to a bunny farting a rainbow on Attayak St. and E. 4th St. 
Austin is full of bright paintings that are not listed on google maps or in any tour book because they keep popping up. We love finding new murals to practice our sit stays by and exploring this beautiful and vibrant city!